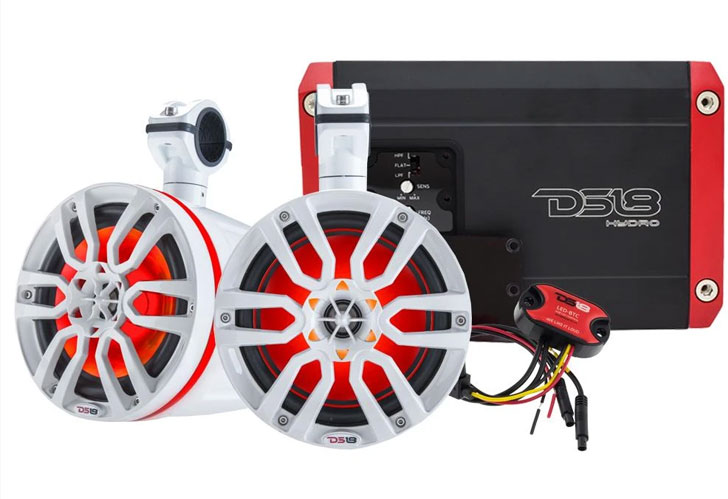 Winter boating (or lack thereof) giving you the blues? If you're located in the northern part of the country, your boat's been winterized and stored for the season – and the boating version of seasonal affective disorder sets in.
But with the help of a few of our trusty Sea Tow captains, there are a few winter DIY projects that can reunite you with your boat and help you kiss those winter blues goodbye.
Upgrade your sound system – There's nothing quite like setting off on a beautiful, long summer day boating with friends, family and your favorite tunes. For many of us, music and boating go hand-in-hand, so why not take this opportunity to install a new sound system in your boat? Simple replacement of stereo head units and speakers is one of the most common DIY projects in the boating world and with a little bit of research and know-how, you can be well on your way to a jam-packed boating season this year! Plus, as Sea Tow members, you can unlock big savings on things like electronics from DS18 and SiriusXM subscriptions.
Apply a fresh coat of paint – With the boat out of the water during the winter, now is the perfect time to apply a fresh coat or two of paint and get your boat back in tip-top shape for the coming season. Much like sound system upgrades, boat painting and simple refinishing is one of the most popular DIY projects for boaters all over. And if you need a little help with painting or other boat improvement projects, your Sea Tow membership can save you 23% on a monthly subscription to the popular TV show, Ship Shape TV.
Fix up your boat cover – Speaking of getting your boat back to tip-top shape, the winter months are the perfect time to make repairs to your boat cover. Did you know that you can buy replacement snaps and the tool to install them for less than what it costs to fill up your fuel tank? And the installation itself couldn't be easier!
Replace worn out gaskets – Speaking of fuel tanks, it's important to always keep an eye on things like gaskets if you want your boat running smoothly for years to come. If you're looking for an excuse to get back on the boat, why not head out and check in on things like fuel fill and deck plate gaskets? It may seem small compared to some of the other projects on this list but keeping condensation and contaminants out of places they shouldn't be couldn't be more important.
Take care of your batteries – Much like fuel gaskets and other small parts, your boat's batteries are easy to overlook, but if you don't take the time to clean, charge and properly store your batteries as your boat sits during the winter, you may end up delaying the start of your boating season once the weather warms if you're left with a dead batter come spring. So, while you're out there showing your boat some love this winter, double check that your batteries are cleaned, charged and ready to go so that you can hit the ground (or water) running as soon as conditions dictate! In case you forget and you're stuck with a dead battery, our friends at Weego offer unique discounts on their jump starters specifically for Sea Tow members. Just like your local Sea Tow captain, they'll get you back up and running in no time.