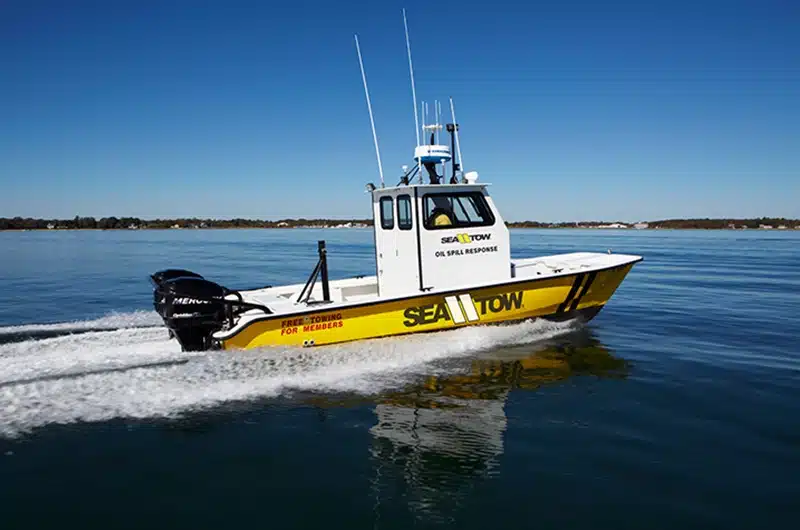 As the old adage goes, "Do what you love, and you'll never work a day in your life." For two of the newest Sea Tow franchise owners, that saying couldn't ring truer.
Sea Tow Southern Connecticut's Capt. John Bilski and Sea Tow Freeport owner Capt. Dave Nockler share a similar background. The two worked a combined 40-plus years in corporate America. One formerly an insurance wholesaler and the other a financial collateral manager, respectively, Captains John and Dave had both grown tired of sitting behind a desk for more than 10 hours a day.
Which is why both men traded their desk chairs for the helm of a Sea Tow boat. Spending every day out on the water, both men have a love for boating, fishing, and helping others.
"I've always been on the water – salt water is in my DNA. When the opportunity to take the reins at my local Sea Tow franchise came along, I just couldn't pass it up," Capt. John said. "It's been so rewarding being out here every day helping people and just having the opportunity to work on the water rather than being glued to a desk."
Capt. Dave echoes these sentiments. In less than two months after taking over Sea Tow Freeport, he's found that his favorite part isn't just being on the water, but rather being the one that's always there when his fellow boaters need it most.
"It's incredibly gratifying to help people," Capt. Dave said. "It makes me happy, bringing them safely back to port, helping them jumpstart their boat or whatever else the job may entail. It's so rewarding in that way."
As new owners, both Capt. Dave and Capt. John look to build upon the legacy laid by their predecessors.
Both men strive to bolster membership numbers, Capt. John said he plans to introduce new programs and help boaters get to know their local police marine unit.
"I have kids and pets of my own, so I know how much boating and family go hand-in-hand," Capt. John remarked. "I want to ensure families are able to take full advantage of that by practicing safe boating and getting to know the people they'll see out on the water every day."
In Freeport, Capt. Dave has plans to team up with marinas, fuel docks, boat dealers, and others within the local marine community to ensure Sea Tow remains the name and brand that everyone wants to hear.
With Capt. Dave and Capt. John as new owners, the future is bright for the Freeport and Southern Connecticut franchises.
"I think that if you love something and truly have a passion for it, you're going to succeed," Capt. Dave said. "I love the water and I love this business. I can't wait to see what the future holds."
MEMBER BENEFITS BEYOND 24/7 TOWING
As the premier leader in on-water boating assistance, Sea Tow members receive the most comprehensive benefits available. Membership includes a full suite of on-water assistance services for every boat you own, rent lease or bareboat charter. Learn more about our membership options today. To find the Sea Tow closest to you, use our service locator or call our Customer Care Team at 800-4-SEATOW.