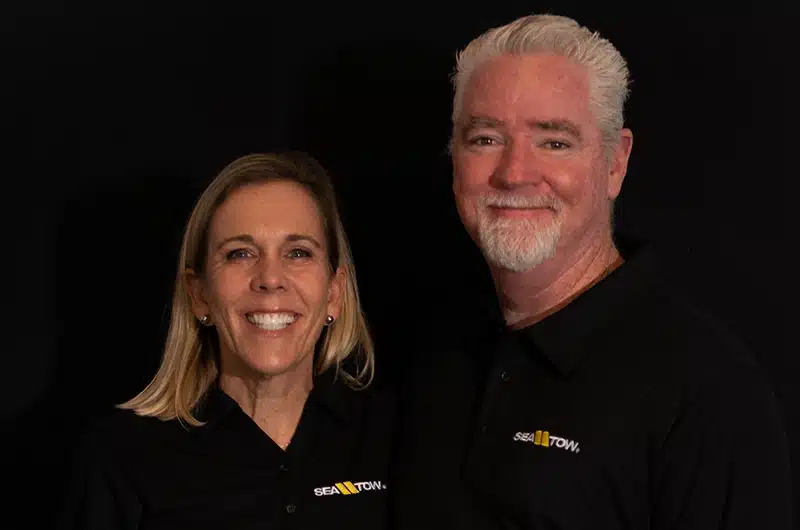 Steve and Cheryl Powers, owners of Sea Tow Key Largo, are inseparable.
As they approach their 25th wedding anniversary less than a week after Valentine's Day, the two couldn't be happier.
But that wasn't always the case. Like any other couple, it took hard work, passion, and commitment to get to where they are today – the same traits that have made Sea Tow Key Largo a staple in the Florida Keys boating community.
A decade ago, Steve and Cheryl each plied their trade in corporate America. They had stable jobs, but something was missing. The beautiful Gulf waters were calling their name. The Powers, right then and there, decided to join hands and take a leap of faith. In August 2008, they quit their jobs and bought Sea Tow Key Largo. It had been a dream of theirs, ever since they first met as freshmen at Florida State University, to live and work on the water; but even then, the seas were sometimes rougher than expected.
"It was difficult at first," Cheryl said. "We weren't used to being together 24 hours a day, but we just figured it out together. It builds you and makes you stronger working as a team like that."
But, over time, things began to click as the couple adjusted to their new roles and responsibilities. "We laugh about some of those things we did early on," Cheryl added. "2008 was hard, but it's fun to look back and think about those things and think, 'We did it.'"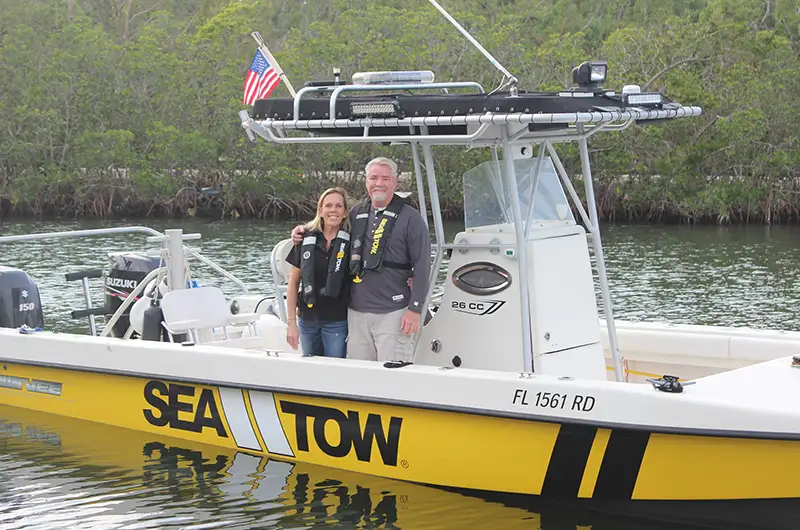 Over the years, Steve and Cheryl have become quite the dynamic duo as co-owners.
Steve spends each day out on the water as the franchise's head captain, while Cheryl holds the fort down back ashore, handling all sales and marketing efforts, organizing social events and handing out advice to the Keys' countless tourists and other visitors.
Every once in a while, Cheryl will tag along with Steve as he answers calls. On their way back from a tow or jump start, they will stop and have a romantic lunch out on the water together – a treat that would never have been possible had they kept their corporate jobs, and one they cherish each and every time.
"We are so fortunate to be in Key Largo," Cheryl remarked. "It's just such a festive, fun, exciting environment."
But even now, like any couple, the Powers get thrown a curve ball from time to time.
Just last year, Hurricane Irma battered the Florida Keys, leaving the Powers' family home, like much of the rest of the islands, untenable, with over three feet of muddy saltwater flooding their first floor. The historic storm left both their professional and personal lives in disarray, but the couple's bond has only grown stronger.
Today, they continue their hard work repairing the scars Irma left in its wake, both at home and throughout their community.
"It's been hard," Cheryl said. "Our family was displaced, and we were separated from our girls, but we're finally getting back to normal."
Even through the rough patches, the Powers family wouldn't have it any other way. Their love and commitment to one another knows no bounds.
Steve and Cheryl's three daughters love the fact that their parents are partners both at home and at work. Nothing – not even a Category 4 hurricane – can tear them apart. At Sea Tow Key Largo, it's truly a family affair.
"I wouldn't trade it for anything," Cheryl remarked. "It has truly been the coolest thing running a small business with my best friend and partner."