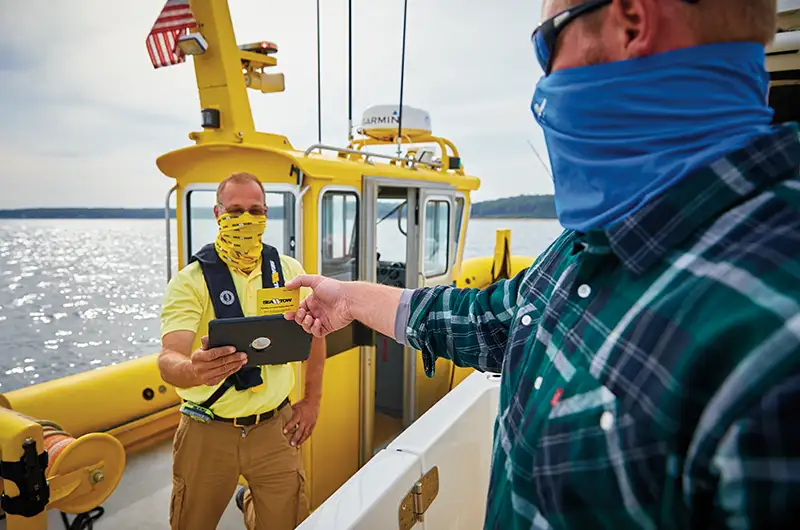 Social distancing has become a top priority in 2020 and as a result many of you, our members,  have taken to the water to do so naturally. Overall, the boating industry saw record numbers throughout the summer season; from sales and on-water traffic to the need for on-water assistance. Boating is up and new boaters have been flooding the market like never before.
Here at Sea Tow, we found that from Memorial Day Week to Labor Day weekend, requests for on-water assistance increased by 34% compared to the same timeframe in 2019.
While the number of requests has increased, the type of services has remained the same when compared year-over-year. "We're still providing the same types of services, we're just doing a lot more of them this summer," said Sea Tow President, Kristen Frohnhoefer. "In fact, our captains helped over 60,000 people who were out boating this summer season."
Sea Tow Captains are on-scene in an average of one hour or less. The top five services Sea Tow provided included:
Towing (58%)
Ungroundings (9%)
Jump starts (8%)
Fuel delivery (8%)
Dock-to-dock towing (8%)
What does this all mean? "There are more people out on the water now than ever," said Frohnhoefer. "There are no signs of the boating season slowing down. We're looking forward to seeing the boating community out on the water."
Boaters like social distancing naturally.
MEMBER BENEFITS BEYOND 24/7 TOWING
As the premier leader in on-water boating assistance, Sea Tow members receive the most comprehensive benefits available. Membership includes a full suite of on-water assistance services for every boat you own, rent lease or bareboat charter. Learn more about our membership options today. To find the Sea Tow closest to you, use our service locator or call our Customer Care Team at 800-4-SEATOW.