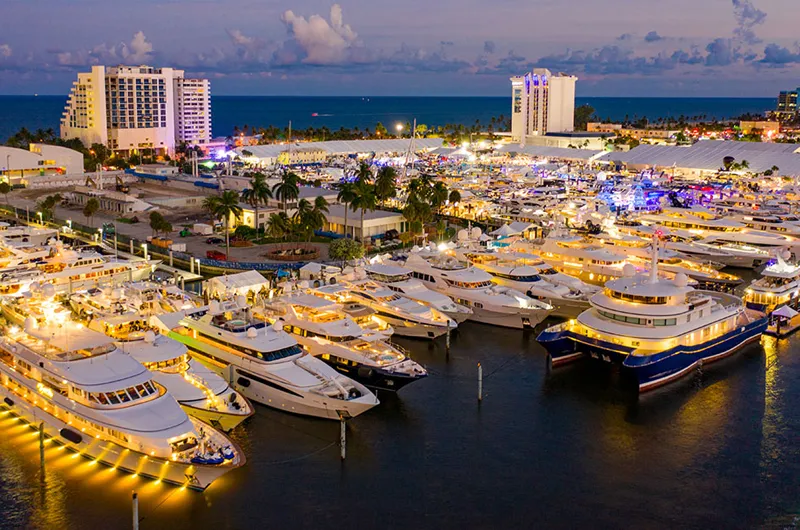 From the finest yachts on the ocean to the latest and greatest gadgets, boat shows are the place where you can see it all. Whether you're attending with the intention of buying or just excited for a fun day out, we've put together a few pointers to help you plan.
Boat Show DO'S AND DONT'S:
The golden rule – ask permission prior to boarding a boat that you'd like to tour.
You must remove your shoes before boarding a boat (this is generally common practice for any boat not just at a show). Wear a comfortable pair that are easy to slip on and off.
Do not request to use the head (bathroom) on board, find one ashore at the show.
Many boat shows are full sun and can be very hot. Be prepared with sunscreen, sunglasses and/or a hat. Avoid dark colors and heavy materials, it can make for a very uncomfortable afternoon.
Most shows don't allow strollers on floating docks. Plan accordingly.
If you are walking the docks with little ones, be safe and make sure they are wearing a life jacket. Visit a Sea Tow Foundation Life Jacket Loaner Station at the show and pick one up to borrow for the day.
Carve out some time to stop by the Sea Tow booth! It's a great opportunity to meet your local captain and ask any membership related questions.
With so many vendors, products, and delicious food you are sure to have a fun-filled day exploring all that a show has to offer. Enjoy!
member benefits beyond 24/7 towing
As the premier leader in on-water boating assistance, Sea Tow members receive the most comprehensive benefits available. Membership includes a full suite of on-water assistance services for every boat you own, rent lease or bareboat charter. Learn more about our membership options today. To find the Sea Tow closest to you, use our service locator or call our Customer Care Team at 800-4-SEATOW.