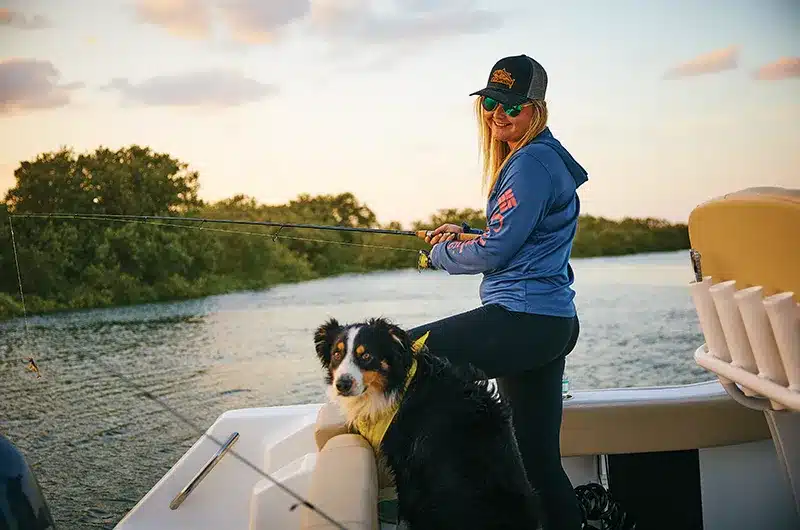 Having a good day on the water can be even better when you bring your furry friend along. But taking the necessary steps to make your boat safe and dog-friendly ensures an even better experience for all on-board. Follow these tips before their paws hit the dock!
Properly stow away fishing gear.
The typical fishing gear you may have lying around poses many threats. Swinging lures, fishing rods, and all hooks could come in contact with your curious pup and cause a lot of harm. Also, if you want to preserve your bait, remember to hide it or it may become the dog's next snack!
Allow your dog to get acclimated to the boat, dock area, and water.
Before embarking on your trip, let them sniff all the new odors beforehand to adjust themselves to the environment. As they become more comfortable with the surroundings and get their "sea legs," more positive feelings will be associated with boating and being on the water.
Prioritize safety with life jackets and leashes.
Doggie vests and other floatation devices are critical to keeping yourself and other passengers safe. Larger dogs can drown humans if they lack the proper life jacket and are forced to tread water in a panic.  A leash and harness are also handy supplies to have on the boat in case of unexpected lunges to jump overboard—be sure you don't tether your dog on deck when underway in case of unexpected wakes, turns or sudden stops.
Prepare extra supplies for longer boat rides.
As the sun beats down, continue to rehydrate your dog by bringing a non-skid bowl and clean drinking water. But as you know, the more they drink, the more they will have to go to the bathroom. Depending on the length of your trip, you may want to consider an on-board bathroom area for your dog to prevent accidents. Synthetic grass or a spot for newspapers are easy ways to ensure your dog won't have to make bathroom breaks.
Prevent your boat from turning into a slippery slope.
Anticipate that your dog will get wet at some point and the resulting full-body shake to dry off. Packing a towel or two is always a good idea to prevent a slippery wet deck. In order for animals to get back onto the boat, you may also consider investing in a boat ladder or ramp to help facilitate boarding.
Lastly, a few extra toys and accessories can help keep your dog calm and comfortable.
Don't forget to pack a few extra treats to reward good behavior when out on the water, dog sunscreen if they have sensitive skin, or even this cute doggie visor if your dog is trying to fit in with the rest of the crew.
Whether it be a quick joy ride or a long journey, ensure you take the necessary steps to make your boat safe and dog-friendly. Your pup will appreciate it and you'll be happy to have him along.