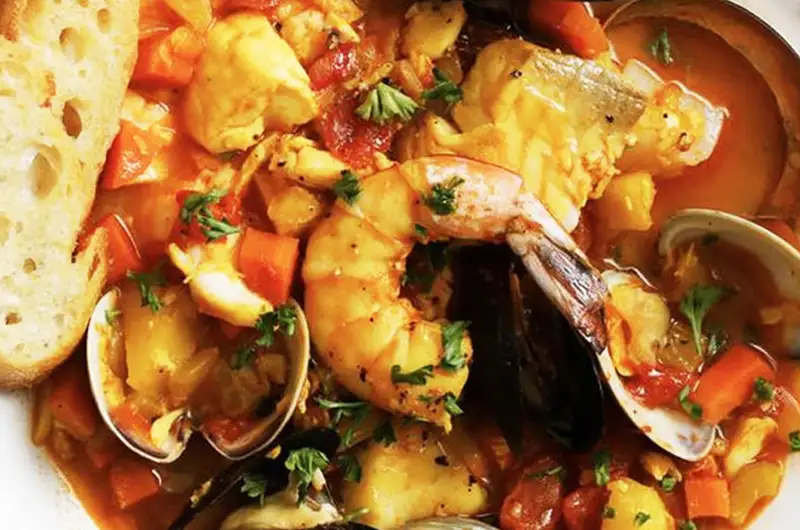 Bouillabaisse; it sounds so intriguing, delicious and, well, frankly, difficult.
It really isn't hard to make, though, especially if you boil up an American version of this time-honored maritime classic, most of which really should fall under the catch-all category of fish chowder.
In its purest form bouillabaisse, first served in Marseille, France, calls for use of fish, mollusks and other marine creatures gathered strictly from the Mediterranean Sea.
Nonetheless, its original intent was to make use of less desirable fish species or "trash fish" as some call them on this side of the pond. Therein lays the great appeal of this form of fish stew. Snobbery aside, pretty much anything goes in terms of the fishy ingredients that offer up the sweet and savory mix of flavors and aromatic delights making this dish simply irresistible to seafood lovers.
Further endearing bouillabaisse to boaters, anglers and outdoors persons of every demeanor is how well this hearty serving lends itself to the hunter/gather genes that many of us carry in our DNA, for it is entirely possible in season to personally collect all of the primary marine-related ingredients in a single boating session. Should you feel less ambitious, a simple trip to the fish market should procure all you need. If you garden, you might actually be able to source all your own ingredients save for saffron, which is an absolutely necessary addition if you want to pass off this recipe off as anything like the real McCoy.
For those living in southern coastal states, shrimp, crabs, scallops, mussels, oysters, clams, squid and a variety of other tasty treats are available even through the winter months to some degree where regulations allow. Most of these, in fact, can be found on any significant flat bordered by a true channel. If you reside in the Mid-Atlantic region or Northeast, winter options are more limited although you may be able to find fresh surf clams, mussels and the like washed up on ocean and bay beaches after any hard-biting nor'easter.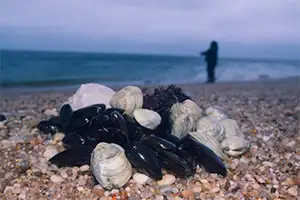 Wherever you float your boat, keep in mind that the gathering of mollusks or bivalves, and in some instances crabs and shrimp, generally requires a permit of some sort and your catch must be taken from certified clean waters. A fishing license or marine registration may also be required to harvest anything with actual fins so check local regulations before venturing out.
The following recipe is my own take on bouillabaisse, one I am certain purists will suggest should lead to my public flogging with wet eel grass for violation of fancy food etiquette.
Be that as it may, this concoction will make four to five quarts, feed a small army, use up any fillets in your freezer, and draw raves from family and friends – all for about the price of a large specialty pizza. Like most chowders and stews, it should also taste even better after sitting overnight.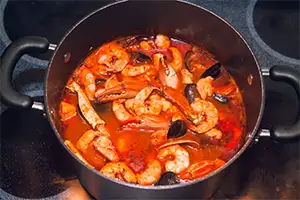 Remember, just about anything goes in terms of ingredients and no two homemade bouillabaisse dinners should ever taste exactly alike. Modify the ingredients to your own liking, warm up a crunchy French baguette, and enjoy.
Ingredients:
Extra virgin olive oil
1-tbs butter
2 Yukon Gold potatoes, peeled and chopped
1 onion, chopped
3 cloves garlic, chopped
4 celery stalks, chopped
2 medium-sized carrots, chopped
¼-ts saffron
1-quart fish stock (homemade or store-bought)
1 28-oz. can crushed tomatoes
1-lb. white fleshed fish cut into 2" x 2" cubes. (Sea robin, ling, bergall, grouper, sea bass, porgy, sheepshead, striper, cod and snook are excellent choices.)
1-doz. little neck clams
1-lb, mussels, scallops, blue crabs, squid, shrimp or additional seafood delights (may be combined)
½-ts Old Bay seasoning
Salt and pepper to taste
¼-cup fresh parsley (chopped)
French baguette (for dipping)
Preparation: 1.5 hours
1. Cover the bottom of a large pot with enough olive oil to form a thick film. Add butter.
2. With oil at medium temperature, add potatoes, carrots, onion, garlic, celery and saffron. Allow each to cook about half-way through before adding the next ingredient.
3. Add fish stock, tomatoes, Old Bay seasoning and a pinch of salt and pepper. Bring to a boil for five minutes before reducing heat to a low simmer. Do not over-salt as additional ingredients will contribute salty flavor.
4. In a separate pot, boil shrimp and/or crabs in 5 cups of water. When nearly done (3 minutes for shrimp; 6 minutes for crabs), remove and place aside reserving water. Pour reserved water into the large pot and return to boil for 5 minutes.
5. Peel shrimp and/or clean crabs. For crabs, break off each claw, remove upper shell, remove legs, break body into two or four sections and rinse out green and red tomalley.
6. Reduce to a low simmer and immediately add clams, mussels or other bivalves.
7. Once clams and/or mussels begin to open, stir in all fish.
8. As fish begins to lose opacity, add cooked shrimp or crabs. Raise mixture to a boil and cook an additional 5 minutes.
9. Turn off stove, remove pot from heat, cover and allow to rest for 15 minutes.
10. Stir gently and sprinkle with parsley before serving with a hot and crusty, lightly buttered French baguette that has been barely rubbed with a crushed clove of fresh garlic.