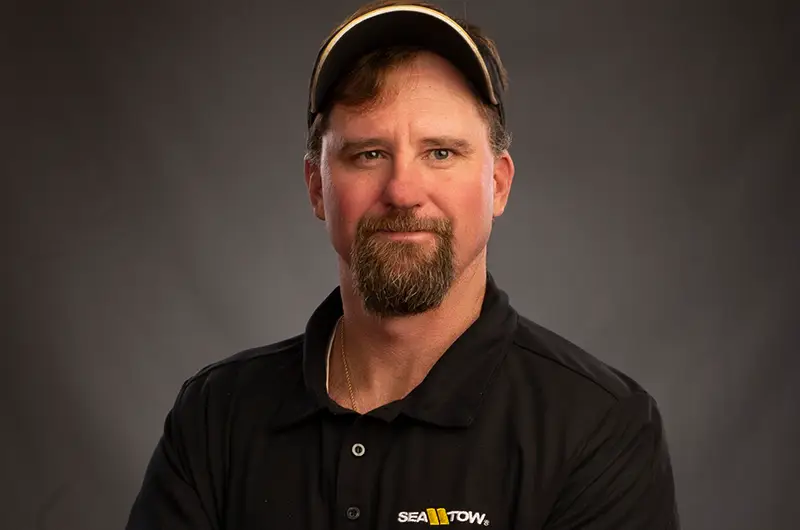 Captain John Ward's commitment to serve, help and protect the community runs deep in his heritage. As a third-generation boat salver, Captain John was born to be a Sea Tow captain and is now the owner of four Sea Tow franchise locations in the Southeast.
Captain John grew up on the waters of southern Florida watching and learning from his grandfather.
Captain Glenn Ward was one of the inaugural leaders in the boat towing and salvage industry with experience dating back to 1960 when he opened a dive charter business in Key Largo. Once free towing in non-life-threatening situations was cut from the Coast Guard's charter in 1983, Captain John's grandfather was ready to expand his business and provide tows to boaters all over the Florida Keys – much like Sea Tow's founder, Captain Joe Frohnhoefer.
"My granddad and Captain Joe probably had a lot in common," Captain John said. "They both were pioneers during the early days of the boat towing business. I learned so much from my granddad over the years. That's where a great deal of my salvaging knowledge comes from. I wouldn't be where I am today if it weren't for his help and support."
After spending a decade in the Coast Guard, Captain John purchased his first franchise, Sea Tow Destin, in 2004. Over the next decade, he would become a vital member of the Sea Tow network as he took over three additional franchises – Sea Tow Pensacola, Sea Tow Lake Norman/Lake Wylie and Sea Tow Kerr Lake/Lake Gaston in North Carolina.
During that time, Captain John became a member of Sea Tow's Disaster Response Team.
Just three months into his ownership at the Destin franchise, Hurricane Ivan hit Florida – making his expertise vital to the area's recovery efforts following the devastating storm. Captain John has been a key resource in catastrophe response efforts following all the major storms that have made landfall since he joined the Sea Tow network. Everything from Hurricanes Katrina and Rita to Harvey and Ian. With each season that rolls in, Captain John is ready for whatever mother nature might throw his way.
"I've been a part of the response teams after so many storms that we're ready for just about anything," he said. "Whether it's helping other franchisees, lending a hand to the team at Sea Tow headquarters or providing support to the local boaters here in Florida, I'm here to help."
HOW SEA TOW CAN HELP
Sea Tow has established relationships with most marine insurers and the experience to safely recover your property while preventing any further damage. If you have an insurance claim reported, we will do our best to work directly with your marine insurance provider. Our boats and equipment are top-of-the-line and built to respond. Learn more here or contact our 24/7 Customer Care Team for assistance.