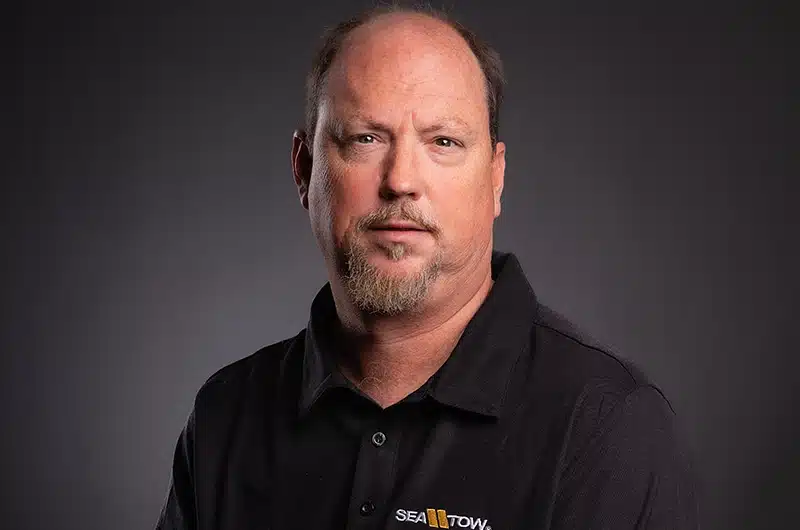 For Sea Tow Ocean Isle's Captain Clay Hughes, it's all about helping as many people as possible. As he and his wife Heather head into their 14th year as owners of the Ocean Isle franchise, their team is well on their way to helping more people than ever before.
Over the course of the last few years, the Hughes' have been on the lookout for ways to extend Sea Tow's reach so that boaters all throughout southern North Carolina waters have a helping hand available whenever they may need it. This has led to a significant expansion over the past several months.
The Hughes recently purchased Sea Tow Myrtle Beach, extending their franchise's reach by an additional 35 miles south.
In addition, Captain Clay recently closed on a brand-new home for Sea Tow Ocean Isle – a four-acre, multi-building headquarters just off the main highway between Shallotte and Ocean Isle.
Previously, Captain Clay and his crew were utilizing three separate locations between their former main office and two storage spaces. Now, the company has its office and storage space for the franchise's six boats and all of its equipment all in one centralized location, making Captain Clay's operation run more efficiently than ever before.
"Having all of our boats and gear in one centralized area has saved us a ton of time, and money that's better spent on helping the local boating community," Captain Clay said. "It's allowed us to respond more quickly to calls, which gives us the opportunity to help even more boaters. You can't put a price on that."
As the Ocean Isle franchise's reach has grown over the past several months, so too has its relationship with the local community. In July, Captain Clay and his crew helped save a family of four whose boat had overturned and sunk near Shallotte Inlet. The crew's swift and efficient response continues to strengthen the Ocean Isle franchise's relationship with the local Coast Guard and other emergency services.
"We received tons of positive feedback and 'atta boys' from the local community," Captain Clay added. "We're here to help people, and to make boating fun and safe."
In his free time, Captain Clay enjoys fishing and spending time with his family. Just last month, he checked off an item on his "bucket list" by catching a 400-pound bluefin tuna in the Outer Banks.
Captain Clay's 14-year-old son, Parker recently drew an interest in sailing after reading several books about solo, around-the-world sailing races. This lead to Captain Clay purchasing a 25-foot Catalina sailboat, which the family enjoys on the weekends.
Ultimately, that sense of family togetherness is something Captain Clay and his wife want to spread to the local boating community.
The Ocean Isle franchise currently operates nine Life Jacket Loaner Stations across their service area and are hoping to increase that number in the coming months. They also help out in the local school system and with fishing tournaments. Captain Clay is even on the foundation board for his local hospital.
"We love this community, so we try to take every opportunity we can to help it grow and prosper," he said. "Our county is the fastest-growing county in the state. I can't wait to see what the future holds."
MEMBER BENEFITS BEYOND 24/7 TOWING
As the premier leader in on-water boating assistance, Sea Tow members receive the most comprehensive benefits available. Membership includes a full suite of on-water assistance services for every boat you own or rent. Learn more about our membership options today. To find the Sea Tow closest to you, use our service locator or call our Customer Care Team at 800-4-SEATOW.