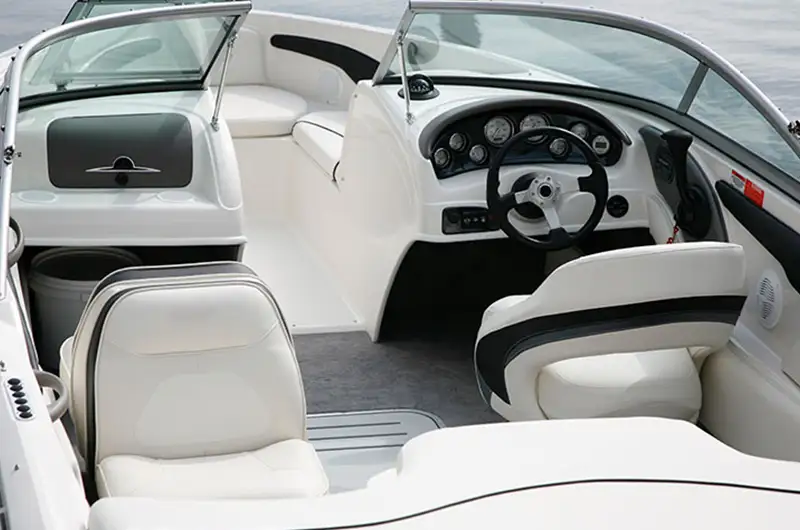 Boat vinyl: it's a godsend and a curse. Tough, adaptable and used for everything, it solves a lot of would-be problems for boaters. On the other hand, it can quickly grow dirty, grimy, and uninviting if you don't take care of it regularly. Cleaning your boat vinyl after every trip should simply be part of a boater's routine.
THE PROBLEM
Essentially, mold and mildew are the culprits that skunk-up vinyl on boats. Both prosper in moisture-laden situations, especially where sunlight is limited. For these reasons, the care of vinyl should begin with keeping them dry. If you are lucky enough to have removable seat cushions, clean thoroughly and store them away in your garage or boat locker. If they can't be easily removed, clean them using a rag, scrub brush, and cleanser after each trip – and make sure they are fully dry before pulling on your boat cover. Pay particular attention to drying out areas where the vinyl folds or is tucked away. Mold and mildew thrive on the oil and dirt that accumulates in the creases and will spread from there, so best to make sure you get to the source.
THE SOLUTION
There's a wide assortment of cleaners available that are designed to kill mold and mildew. When possible, choose an organic elixir or one labeled as non-toxic to marine and aquatic life. Use cleaners and protectants sparsely and only in areas where run-off can be controlled. As an alternative to commercial cleaners, some boaters mix their own. Often, it's a combination of white vinegar, liquid dish soap (usually Dawn®), warm water, and club soda. It will work if you are consistent, but once mold and mildew get the upper hand, you'll need the strength of a store-bought variety.
Undoubtedly, the single most effective home cleaning remedy for dirty vinyl is a half-cup of bleach added to a five-gallon bucket of water. Only resort to this option when desperate measures are required. While bleach will clean things up, it will also stress the fabric and stitching. Whether using bleach or another cleaner, apply and wait five to ten minutes before removing. The extra time allows it to go to work and will dramatically reduce the severity to which mold and mildew could rebound.
Lesson learned
At the very least, give your vinyl a quick spray and wipe down every time you get back to the dock. Make sure there is airflow under your cover as a stagnant, damp environment can foster the bloom. That way, when you step aboard for a day on the water with family, you won't have to search for clean towels to serve as a barrier between your seats and your loved ones.
UNMATCHED MEMBER BENEFITS
Sea Tow has been the premier leader in on-water boating assistance since 1983. With Sea Tow, you pay one annual rate and receive the most comprehensive member benefits available. Membership includes a full suite of on-water assistance services for every boat you own or rent. Learn more about our membership options today. To find the Sea Tow closest to you, use our service locator or call our Customer Care Team at 800-4-SEATOW.