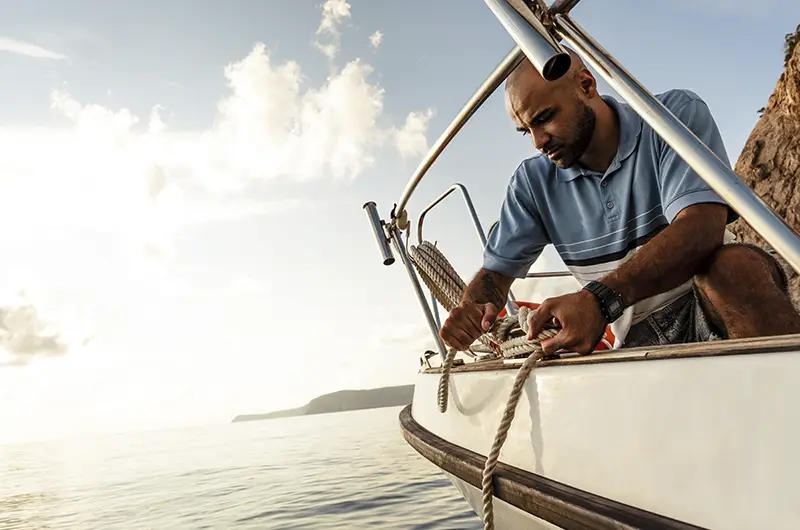 Whether it's tying up to the dock, securing an anchor, or joining two lines; every boat owner should master these most common boating knots.
Which boating knots should you learn first?
Here are four you can't live without.

1. Cleat Hitch: This is the first knot boaters should tackle. Most often used to secure vessels to cleats along docks and bulkheads, it takes seconds to tie, doesn't slip, and can be quickly released under load.
2. Clove Hitch: Use this knot to temporarily secure your vessel to a rail or for securing a fender line (fender whip) to a toe railing. Note that this knot can loosen after a while. Add a double half-hitch (below) after tying the clove if you need more holding power.
3. Double Half Hitch: As the name implies, this knot sees a second half-hitch tied right up against the first and forms a running noose that's easily adjusted to be larger or smaller. Use it to secure a line tightly around an object like a dock piling or to keep a fender whip from slipping.
4. Anchor Hitch: A strong knot used to secure a rope to an anchor, it's also easy to untie. Add a double half hitch or seize the tag end of this knot to really lock it in place.

Fortunately, these boating knots can be mastered in minutes. Armed with this basic knowledge and a Sea Tow Membership, you can cast off with confidence knowing you can tackle whatever the day brings.
Sea Tow Can Help
Sea Tow has been the premier leader in on-water boating assistance since 1983. With Sea Tow, you pay one annual rate and receive the most comprehensive member benefits available. Membership includes a full-suite of on-water assistance services for every boat you own, rent, charter, lease or borrow. Learn more about our membership options today. To find the Sea Tow closest to you, use our service locator or call our Customer Care Center at 800-4-SEATOW.