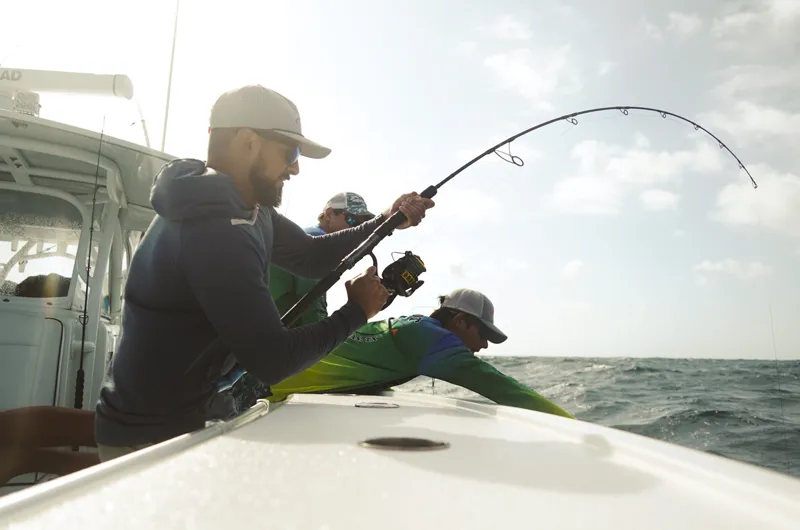 It's that time when snowbirds start heading south, and for some, that means the fishing is just getting started. Fishing in southern waters can be a blast but for those departing from cooler ports, the question of what lures to bring along can raise a little angst.
If you plan to fish with a guide, of course, you'll be covered since they provide everything you need. For less formal fishing around the resort, marina, or at a local beach, however, a two-piece 7-ft spinning rod spooled with a 30-lb test braid and a very basic tackle box should keep you in the game.
With lures and terminal gear, the goal should be to carry just enough to fill a small tackle box. Start with a couple of small tins. These work from a boat or the beach and catch nearly every predator that swims. They cast a mile, can be jigged vertically or ripped just beneath the surface. Virtually indestructible, the AVA 007 and 27 – with bare hooks instead of tube tails – are good choices as is a 2-oz Hopkin's Shorty. Carry at least two of each.
Bucktails are another all-purpose selection.
Use these to probe the bottom or to work areas with strong currents such as bridge abutments and inlets. Two or three each in sizes, ½-oz and 1-oz, should do the job. White is a universal color that catches fish under just about any condition. To tip your bucktails, use fresh-caught fish strips or pack a jar of Fat Cow trailers in white or red. If you favor Berkley Gulp! grab it after arriving at your destination to avoid juices possibly leaking in transit – and give the remainder away before heading home. The shrimp pattern seems to be a southern favorite. Either Gulp! or live shrimp can also be fished using a ¼ to ½-oz plain jighead.
A solid set of soft-plastic swimbaits is also a good idea. Storm Wildeye Shad and Tsunami in the 4-in size are easy to use and bring consistent results. Chuck them as far out as possible and retrieve them at slow, medium, or fast speeds until you find a winner. Panther Martin's Big Fin is another excellent choice. It has a thin profile – and it's weedless. Use the 1-oz size in shallow water and the 2-oz size in deeper water or fast currents. White and chartreuse patterns work well as does all black – an absolutely evil pattern for night fishing around bridges and other structures.
A few additional fishing tips before heading off on that dream winter vacation:
● Southern waters teem with toothy critters including barracuda, jacks and various shark species so bring wire leaders to limit cut-offs. A 10-in length of size #2 wire leader (~20-lb test) will defeat the dentures of most inshore predators while not spooking discerning species like grouper and snapper.
● Shallow waters are often crystal-clear and fish feeding in them can be exceptionally wary. Use fluorocarbon leaders when targeting bonefish, permit, redfish, sea trout or other small-toothed, flats and tidal creek favorites. Fluorocarbon leaders virtually vanish in the water and greatly increase hook-up ratios.
● Choose polarized sunglasses that wrap around the sides of your face for optimal glare reduction. When looking for fish in shallow water, watch for dark shadows moving across the bottom instead of trying to spot actual fish. A high sun makes spotting shadows easier so there's less need for a daybreak start.
● Find time to fish the bridges (where allowed). The waters around them sport tarpon and snook. Novice anglers favor popular hot spots during the day – sharpies return after dark when bigger fish come out to play.
Photos courtesy of Captain Experiences.
How can Sea Tow help?
Sea Tow Captains work harder and smarter to keep you boating, which is why 25% of service calls are resolved without towing. Have questions about navigating a tricky channel? Who is a good guide to fish a new area with? Call us. Worry less and boat more knowing that Sea Tow is standing by 24/7.