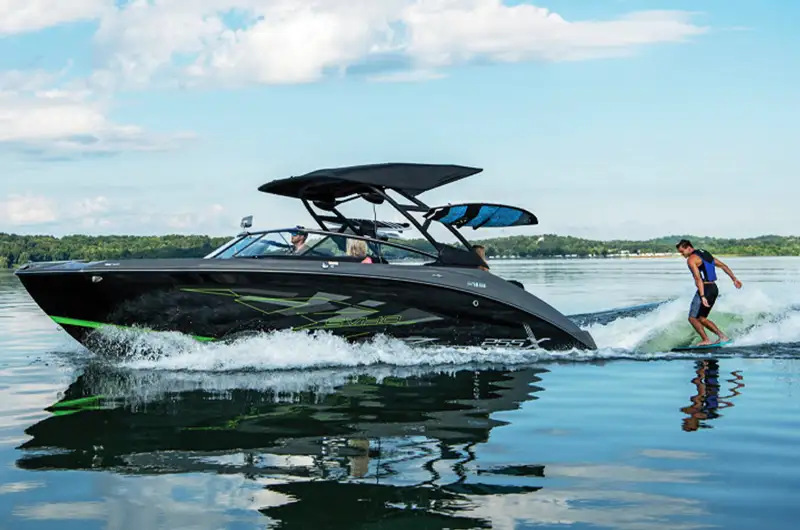 The allure of surfing is understandable. It's that feeling of walking on the water and harnessing the power of the wave to move you forward. Until recently, many haven't had the chance to experience that sensation, but today the sport of wakesurfing is being found just a few feet behind your boat.
Wakesurfing, different from wakeboarding, allows an individual to use the wake of the boat as their personal wave. The rider often starts out holding a short rope until they are positioned in the curl of the wake, then the rider lets go and starts to surf freely on the wave.
While there are multiple wakesurfing boats and accompanying technology, here are some examples that caught our attention.
Because of the wakesurfer's proximity to the spinning prop on a boat, it's both dangerous and in some states illegal to wakesurf behind a boat with a conventional engine facing backward. However, thanks to the innovative Volvo Penta Forward Drive engine, multiple boat manufacturers now offer wakesurf-ready boats. This means the engine's prop is facing forward and tucked under the boat's hull for safety.
Jet boats are also popular choices for the sport. These boats don't use a prop for propulsion, but a jet of water like that of PWC's.
Even pontoon boats are coming on the wakesurfing scene. The Montara Surf Boss was unveiled in 2019 and was the first legal wakesurf pontoon boat in the world. Similar to a forward-facing drive, the prop is tucked under the boat and faces forward for safety.
If you want to try something new and fun this summer, consider wakesurfing as an option.  When you get out there be sure to #WakeResponsibly. Watch where your wake is traveling and stay far enough away from shore and other boaters to not disrupt their boating enjoyment or do any damage.
Learn more about wakesurfing from our friends at Discover Boating.
peace of mind on the water™
As the premier leader in on-water boating assistance, Sea Tow members receive the most comprehensive benefits available. Membership includes a full suite of on-water assistance services for every boat you own or rent. Learn more about our membership options today. To find the Sea Tow closest to you, use our service locator or call our Customer Care Team at 800-4-SEATOW.