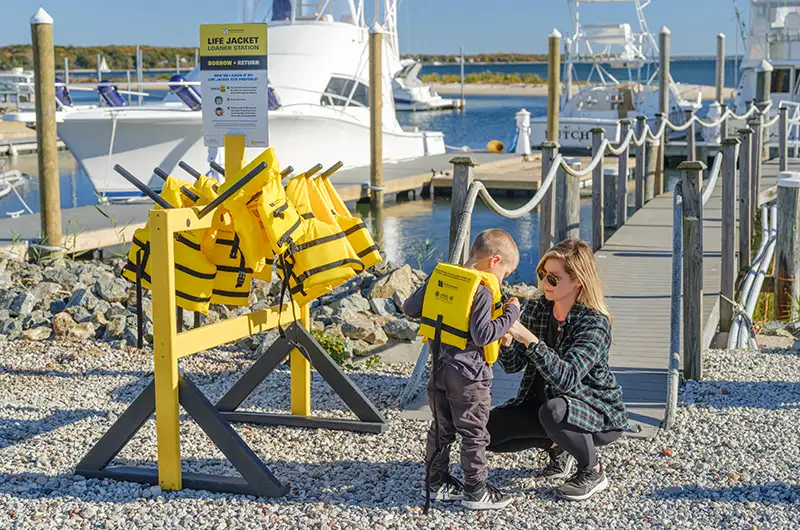 Children enjoy splashing in the pool and taking a relaxing boat ride just as much as their parents. However, it's important that every child has a properly fitting life jacket anytime they are near the water.
Life jackets for children come in different sizes
Styles are designed to fit the child's body weight, for comfort, and vary depending upon water activity. The U.S. Coast Guard requires all children under the age of 13 to wear a life jacket whenever they are on board a boat that's underway. Kids grow quickly, so it's important to check that last season's jacket still fits correctly before heading back out on the water.
Is the jacket U.S. Coast Guard approved? Check the label inside the life jacket to make sure it is, in fact, a Coast Guard-approved jacket and that it's rated for the boating activity you'll be participating in.
Does the jacket fit? The child's size should fit into the weight restrictions and chest size measurements listed on the jacket label.
Can the child move comfortably? With the buckles and/or zippers fastened, the child should be able to move their arms and body easily as if they were swimming.
Is the fit below the chin? Have the child raise their arms over their head and tug on the jacket from behind to make sure that it doesn't go above the chin. If it does, the life jacket is too big.
Once you think you have found the perfect match, have your child practice wearing the life jacket in shallow water with adult supervision. This will help your little one become more comfortable with it being on because just like using a seatbelt – life jackets only work if you wear them.
Interested in learning more?
The Sea Tow Foundation provides a variety of resources for boaters about all things boating safety, including a special guide on how to fit a life jacket to a child. Visit their website today.