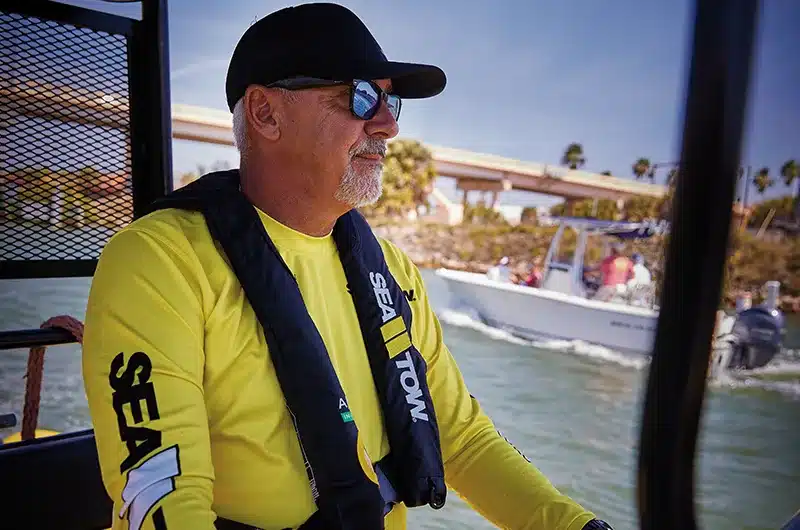 Over the last decade, Capt. Dan Mercier Sr. has truly embraced the Sea Tow lifestyle and what it means to "bleed yellow." His office is a part of his home. The role of captain is woven into the fabric of his everyday life. And as he reflects on 10 years as owner of Sea Tow Naples, he shared a little insight on what it takes.
"Being a Sea Tow franchise owner is no small job," Capt. Dan said. "It requires knowledge, commitment, passion, and drive. Our job is to provide our members with Peace of Mind on the Water™. We do much more than provide on-water assistance services. Boaters rely on us for our on-water know-how."
The thought of a 24/7/365 commitment can be intimidating, but it is one that motivates Capt. Dan daily. Sea Tow Naples covers a large part of the Collier County Florida coastline and isles. His experience is invaluable and is what has helped him navigate the highs and lows throughout the years, from recovery efforts after Hurricane Irma in 2017 to closing out one of the busiest seasons on record in 2020.
His dedication for his work extends through his love of his community. Capt. Dan and his team help with the local annual Christmas boat parade, provide assistance to marinas in hosting events, host Sea Tow Foundation Life Jacket Loaner Stations, and much more. In the end, he credits his successes to one person.
"I could not do this job without my compassionate wife, Martha, or 'Lupe' as everyone likes to call her," Capt. Dan said. "With the business running out of our home, it has taken a while to get used to the hustle and bustle that is required. It is a team effort and I could not have been this successful without her."
When he does get a chance to take a break from work, he finds himself the lifestyle he serves with his family. A few iced teas and waters in the cooler and the Mercier family is off to Keewaydin Island to relax on the sandy beaches where his two young grandsons can play.