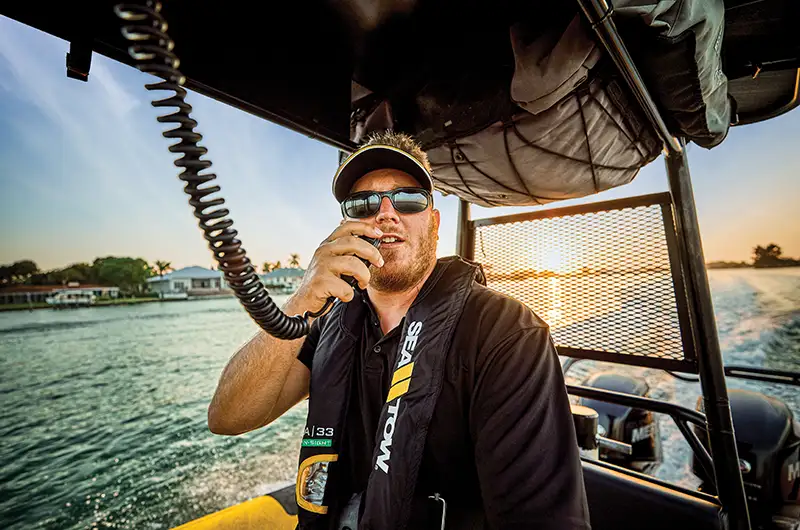 Sea Tow members call 800-4-SEATOW for a variety of reasons. Whether it's to request service or to utilize a Sea Tow Captain's knowledge about the local waters, every call is different.
"Many of the calls we receive are a result of operator error or lack of knowledge," said Capt. Jack Moran of Sea Tow Cape May in New Jersey. "I would say that half the time, we can help the member get started and on their way again just by asking them to try a few different questions."
Capt. Jack explained that something as simple as the boat not being in neutral or the engine cut-off switch being disconnected can cause a boat not to start and a member to call. Those are easy things to talk a member through. When someone is out of gas or stuck on a sandbar, it takes a different approach.
A recent survey of Sea Tow locations indicated that the top reason members call varies by location, but the leading service provided as a result of member calls is actually the same across the network. That #1 service being a tow.
Every year more than 55 percent of the calls Sea Tow receives result in a tow, even though the cause of those tows differ greatly by location.
Capt. Trey Hill of Sea Tow Southcentral Alaska recalled a recent situation that while different, is more common than not. "A member had ventured out for the first time this year and struck some debris disabling their prop," Capt. Trey said. "People don't realize the amount of debris that is in the water. You have to really be careful and watch for logs and other floating objects up here. It's not unheard of for us to have a member call and say they tore their lower unit off."
In Southern Florida, Capt. Ryan Helmig of Sea Tow Palm Beach, has had members call for just about everything. However, the top two reasons members call him are for gas and having dead batteries.
"It's basically a toss-up between dead batteries and members running out of gas," Capt. Ryan said. "Running aground onto a sandbar or shallow area is a close third as well. What we have found through it all is that people look at us as a tremendous source of information."