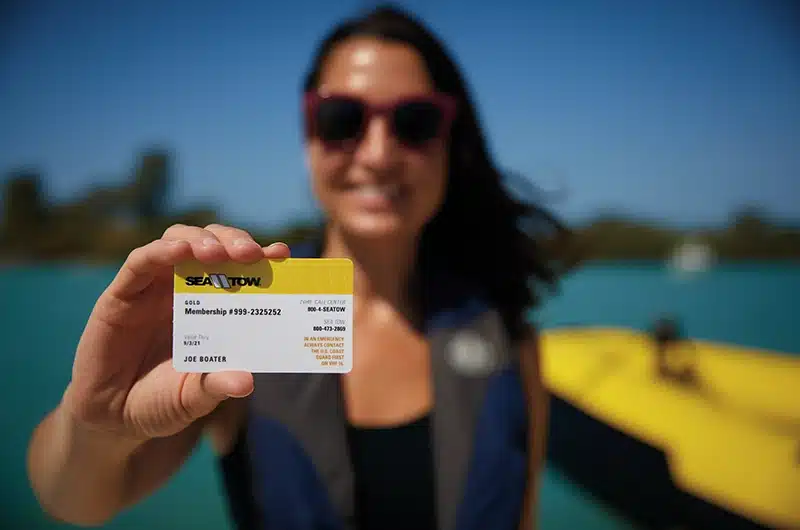 Bill McNulty reaches into his wallet and pulls out his bright yellow Sea Tow card.
"There are two things I really like about this card," he says with a wry grin. "First, it saves me money every time I take it out. Second, it's bright, so I can find it easily in my wallet."
McNulty has been a Sea Tow member for four years and he's about to cash in on a value-added feature of membership. That's because, in addition to providing free boat towing, fuel delivery, jump starts, dock-to-dock tows, and more under one annual membership, members are also entitled to some valuable savings.
"You'd be surprised what this card can save you over the course of a boating season," explains McNulty. "Sure, I became a member because I wanted the security of knowing someone is watching my back 24/7 while I'm on the water, but I'm on top of things with my boat. Although I use it nearly every week I've only had to request help a few times, so I really like that I get to save money when I show my Sea Tow card at the tackle shop, the gas dock, or when I order boating stuff online. If you use your discounts enough, you might save more than the cost of membership some years."
McNulty's savings this week alone are a case in point. Using Sea Tow discounts, he recouped $8 on bait, hooks, a new fillet knife, braided fishing line, and an assortment of lures from his local tackle shop because it offered a 5 percent savings to Sea Tow members. "It's the mid-point of the season and time to re-stock," he noted. An additional savings of $7 at the gas dock resulted from topping off his vessel before heading out the inlet and down the beach to work a nearshore wreck with a trio of fishing buddies.
"I also saved about $20 bucks on a new boat cover," revealed McNulty. "I have a discontinued center console from 2011 so I had to go online and get a custom canvas – but the dealer offered Sea Tow Members a 10 percent discount. Sweet!"
Those kinds of savings really add up over the year.
Indeed, under the "One Card, All Kinds of Help" philosophy, Sea Tow features a variety of local and national businesses through the Sea Tow Savings Club, a program established to bring Sea Tow members discounts on a variety of products ranging from gas, tackle, safety equipment, accessories, and electronics to car rentals and fishing charters.
"I'm saving something every couple of weeks with my Sea Tow card," concludes McNulty as he heads down the dock with fish on the brain. "See these glasses? There're from Fishgillz. Polarized, of course – and they look really good!" he adds with a chuckle. "Sea Tow saved me 25 percent. Man's gotta have shades."
MEMBER BENEFITS BEYOND 24/7 TOWING
As the premier leader in on-water boating assistance, Sea Tow members receive the most comprehensive benefits available. Membership includes a full suite of on-water assistance services for every boat you own, rent lease or bareboat charter. Learn more about our membership options today. To find the Sea Tow closest to you, use our service locator or call our Customer Care Team at 800-4-SEATOW.