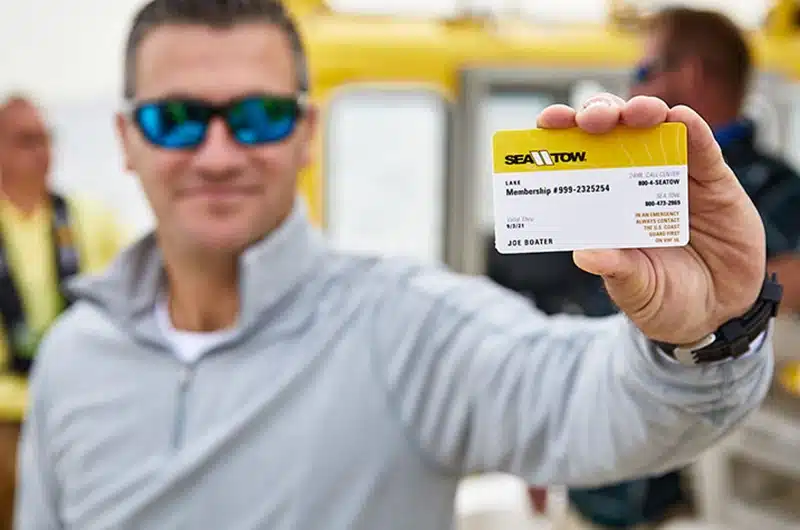 What is the real value of Sea Tow? It's a fair question.
Many Sea Tow members point to the feeling of security they get simply from knowing Sea Tow has their back on the water, 24/7/365. Have a boating problem? You call Sea Tow. It's hard to overestimate the importance of such reassurance for those who love the boating lifestyle.
For others, the value of Sea Tow boils down to dollars and cents. From this view the economic advantages of a Sea Tow membership are clearly a good investment. Consider the cost of on-water assistance if you are not a member of Sea Tow. Depending where you are in the country, hourly rates range from $250 to $500 per hour from the time the boat leaves its dock until it returns to its dock. The further you break down from port, time of day, weather conditions, etc. all contributes to that rate. For Sea Tow members, all that time is free and that adds up to significant savings. Last year, Sea Tow members saved over $20 million dollars in towing costs alone.
One of the biggest misconceptions out there is that Sea Tow membership is included with towing coverage through an insurance policy. That is not the case.
Without a Sea Tow membership card, you do not have Sea Tow. So why have Sea Tow and towing coverage through your insurance? Simply put, a boat towing membership will always be more comprehensive than what towing coverage through insurance will offer. Priority service, distance, dollar limits, what's covered, what's not; it's always worth doing some investigation with insurance providers to understand exactly what services are covered and how reimbursement or claims will work.
Listen to Captain Ramsey chason of Sea Tow Cape and Islands and Captain Mike Langenbach of Sea Tow Huntington talk about
response time for non-members with an insurance policy towing rider.
Visit our FAQ page to read the full list of  Towing Coverage on Insurance Policies vs Sea Tow Membership.
But the value of a Sea Tow membership runs even deeper than that. With Sea Tow, there's no boat towing distance or dollar limits in your home area, local captains are always standing by ready to help and share their knowledge of local waters, and members always receive priority service. Further, the goal of every Sea Tow Captain is to get members up and running again if possible, rather than simply hooking up your boat and towing it home. If there's a way to get you behind the helm and on your way, Sea Tow will strive to make it happen.
As a Sea Tow member, you'll also receive plenty of added value beyond the end of a tow line.
Standard services fuel deliveries, jump starts, nationwide coverage, covered ungroundings, and more. Add in the Sea Tow Savings Club™, through which members are eligible for discounts and special offers at local marinas, fuel docks, repair facilities, hotels and tackle shops, as well as car rental services and worldwide businesses discounts, and it's easy to see how all these savings can add up to a significant chunk of change over the course of a boating season.
So then, what is it that makes a Sea Tow membership such a value? It's all the above, of course, plus the knowledge that your membership dollars stay local, in your own community, to keep your Sea Tow Captains and crews ready to assist when you make the call.
Rest assured that on-water assistance is never more than a quick call away. Join for peace of mind, economic rewards, or both. Any way you do the math, a Sea Tow membership is a plus on the balance sheet.