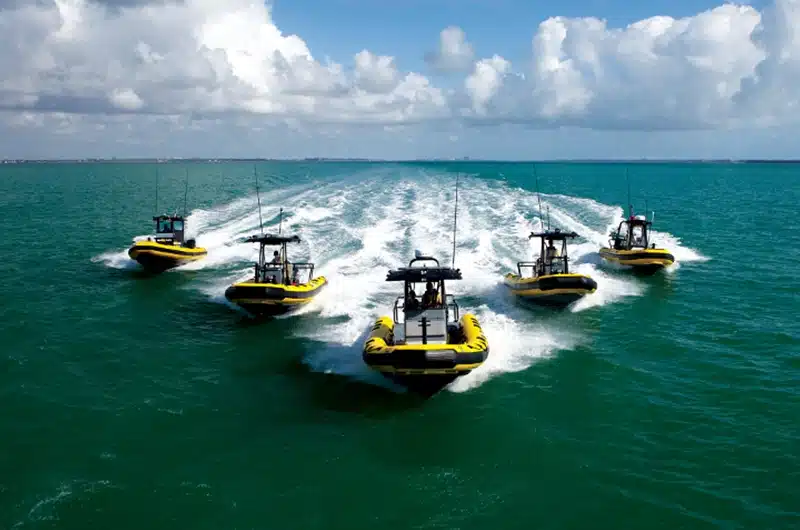 Three Sea Tow locations – Sea Tow Brunswick, Sea Tow Port Jefferson, and Sea Tow Huntington – are celebrating notable milestones in 2021 with a combined 65 years of service.
Serving local boaters in need for 25 years has been a labor of love for the highly skilled group of Sea Tow Brunswick franchise owners, their captains, and crew in the small coastal village of Brunswick, Ga., just north of the Florida border.
A friendship that started more than 25 years ago with Capt. Joe Frohnhoefer, Sea Tow's founder, led Capt. Bruce Fendig, his late father Edwin Fendig Jr., and his three fellow Brunswick Bar Pilots Association members to open a Sea Tow location. A quarter-century later, the four owners are still taking care of business on Georgia's Golden Isles.
"One thing we learned from Capt. Joe is how to take care of our members with a personal touch and always be an ambassador of the brand whether we are on duty or off," Capt. Bruce said.
Similarly, Capt. Pete Murphy of Sea Tow Port Jefferson in New York has accumulated plenty of time on the water over the years. In fact, he's been cruising the same waters around Port Jefferson and the Long Island Sound since he was 12 years old, which makes the 25th Anniversary of owning Sea Tow Port Jefferson even more special to him.
"It's hard to believe I have owned this Sea Tow franchise for 25 years," Capt. Murphy said. "There are a lot of people that helped make it happen, and our commitment to the community is stronger now than ever."
Capt. Murphy is grateful for the support he has received throughout the last quarter-century and wants to pay it forward. The franchise has sponsored charities like the American Cancer Society Regatta and community beach cleanups. They are active in the Chamber of Commerce and sponsor the Dragon Boat Races and Police Athletic League sports. To help boaters stay safe, Murphy and his team work with the Sea Tow Foundation to maintain a Life Jacket Loaner Station so jackets are available to those in need.
When Capt. Michael Langenbach took ownership of Sea Tow Huntington in New York in 2006, he was a 25-year-old entrepreneur and wasn't sure what the future would hold. Today, he is celebrating his 15-year milestone.
He and his crew have established a reputation for quality service in their area. Piloting his fleet is an experienced group of captains who not only know the area well but have also cultivated relationships with Sea Tow's customer base, many of whom have been long-time members, earning Capt. Langenbach recognition from Sea Tow Services International for outstanding customer retention.
Every year the company donates several memberships to raffle off in local fishing tournaments and other charity fundraising events, as well as sponsoring local marine events. Not only do they support local fishing tournaments and other events, but they also provide a life jacket loaner station through the Sea Tow Foundation that allows boaters to borrow a life jacket for the day if needed.
Without a doubt, "personal touch" is a true representation of the way in which all three franchise owners describe their years of service.
Member Benefits Beyond Towing
As the premier leader in on-water boating assistance, Sea Tow members receive the most comprehensive benefits available. Membership includes a full suite of on-water assistance services for every boat you own, rent lease or bareboat charter. Learn more about our membership options today. To find the Sea Tow closest to you, use our service locator or call our Customer Care Team at 800-4-SEATOW.