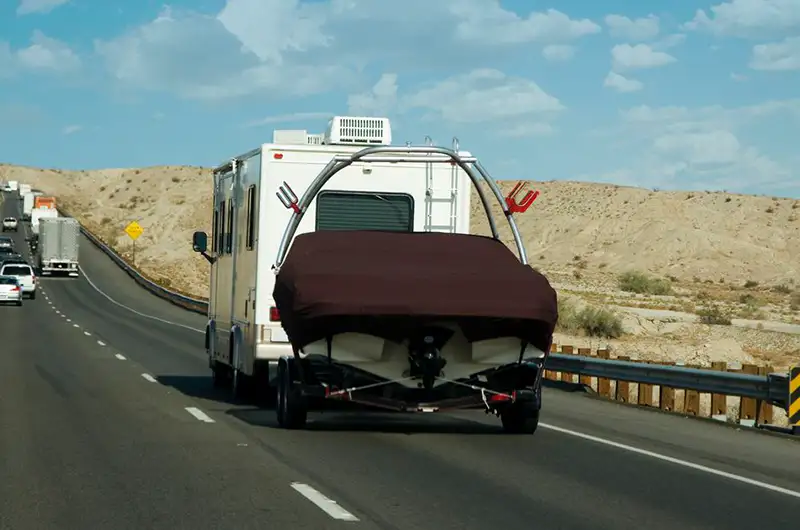 More people than ever are towing a boat trailer behind their RVs. However, doing so is more complicated than towing behind a car, SUV, or pickup. There are rules and regulations that vary by state, so before you start towing a boat trailer with your RV, check in with your local DMV.
Here are some basic tips to consider.
Verify tow capacity
Make sure that your RV has enough towing capacity to pull your boat and that your hitch can take the load. If you need to, use a hitch extender. Also be sure to grease the trailer bearings thoroughly, even excessively. You won't know if they're overheating, because you can't see them.
Be sure you are insured
In addition to having good collision insurance, it makes sense to insure yourself for liability situations as well. If for whatever reason, your boat comes uncoupled, you want to have the coverage you need.
Leave room for braking
Panic stopping with a trailer in tow does not work. If you follow too closely and have to jump on the brakes to keep from hitting something in front you, odds are that your trailer isn't going to stay in a straight line.
Make wide turns
Make sure that there's enough clearance between your boat and your RV when you turn tightly. In tight turns, the corners of the boat may rub against the corners of your RV, which is bad all around.
See behind you
Find a way to be able to watch your boat under tow, either directly via a wireless webcam, virtually via wireless tire pressure sensors, or both. If you can't see the rig you're towing, it's imperative to put pressure and temperature sensors on the trailer tires. Without them you won't know that your trailer is dragging down the road on a rim instead of an inflated tire.
Practice at the boat ramp
You can't see behind as well from an RV as you can from a truck, and you don't want it to wind up in the water. Your best bet is to find a good local freshwater launch ramp and practice. When you are backing up, go slowly, and station somebody outside the RV to watch and shout in case of trouble. Keep your windows down and your sound system off so you can hear.
Make frequent inspections
Always perform a complete walk-around inspection of your RV, boat, and trailer before you pull onto the road. Then, stop at the first rest area and do another walk-around to find and fix problems that might arise. Keep up the inspections throughout the trip and you will prevent any problems before they start.
MEMBER BENEFITS BEYOND 24/7 TOWING
As the premier leader in on-water boating assistance, Sea Tow members receive the most comprehensive benefits available. Membership includes a full suite of on-water assistance services for every boat you own, rent lease or bareboat charter. Learn more about our membership options today. To find the Sea Tow closest to you, use our service locator or call our Customer Care Team at 800-4-SEATOW.