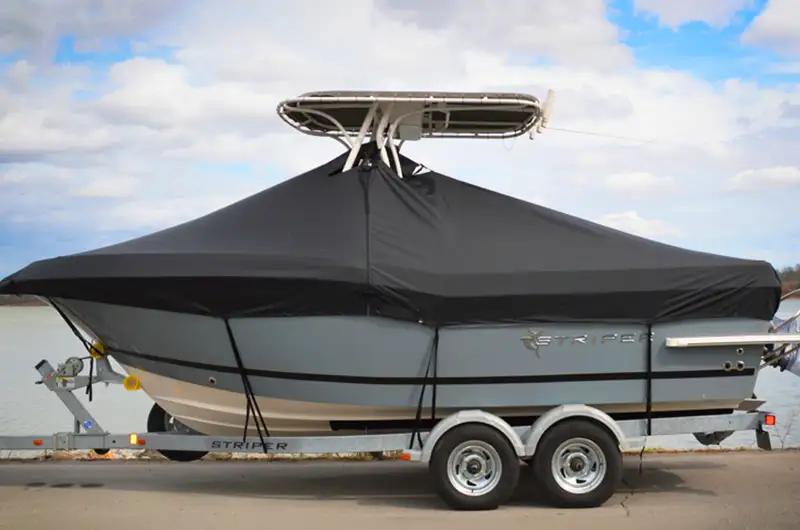 What's the deal with boat covers?
I don't know about you, but I seem to go through them a lot faster than I expect. Sure, I know they need to be tented tight so the rain and snow runs off without collecting. I also realize colors can fade on boats that are stored outside, and that better fabric should bring better results.
Is there that much difference between one boat cover and another?
"You'd be surprised at the range of quality," says Carie Bores, Director of Sales/Customer Service at Westland Industries and Great Lakes Boat Top. "There's a lot more to it than you might expect," she explained. "Plain polyester is fine for indoor storage and cooler climates. It's comparatively inexpensive and water-proof but not very breathable, sun resistant, or colorfast. It should serve its purpose in areas where dampness and constant sunshine aren't a problem. If you go the basic polyester route, you'll need to install some type of vented support pole or venting system. This allows the moisture escape to reduce mold and mildew."
According to Bores, by comparison, Sunbrella®  is a much better overall cover material. It has superior color fastness, water resistance, and breathability. With this fabric, the fibers are dyed in a color solution before being woven instead of having the color printed on after the fabric base cloth is made. "It's the king of all boat cover materials," states Bores. "For southern states, especially, it's really the best choice."
Once you figure out which boat cover is best for your vessel, it's still vital to get the fit positioned just right.
You'll want to make sure the cover isn't pulling, and that any sharp edges or corners are buffered with a little soft padding. If water puddles in places after it rains purchase additional support poles and get those installed to make sure the cover is tented enough that the water rolls off completely. If it doesn't, any fabric will eventually tear from the stress.
"It's also important to check straps or tie-downs every so often when trailering," reminds Bores. "If the straps loosen up, the plastic clips may start beating the side of the boat – and your cover could balloon on the Interstate." Nobody wants that. To be on the safe side, remove the cover if traveling 100 miles or more.