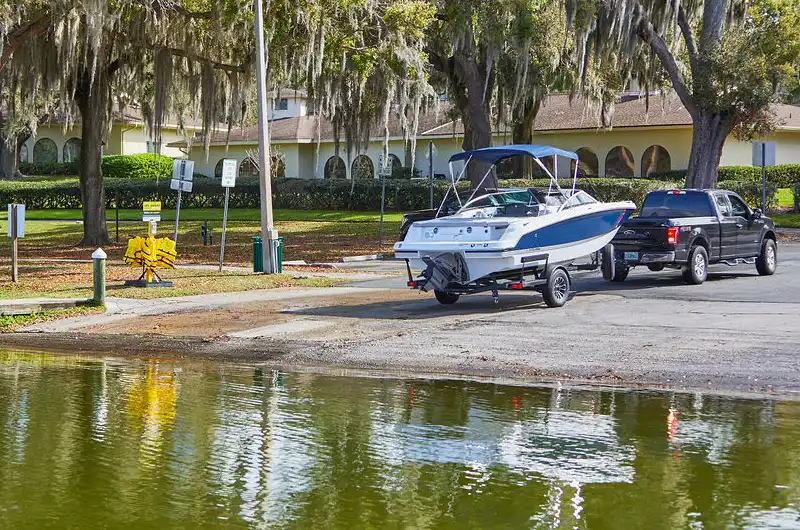 Backing up your boat trailer is "put it in reverse and go," right? Wrong! It takes practice. Keep these tips in mind THE next time you head to the boat ramp.
Practice before heading out! Just like how you learned to back up a car, learning to back up your boat effectively and safely is important. Use cones as markers to simulate entering tricky or tight boat ramps.
Adjust your mirrors. Be sure your side mirrors are adjusted so that you can see the side of the trailer on the inner third or half of the mirror. The outer half/third of your mirror will show you any potential hazards.
Take it slow. Slow and steady wins the race – it also gives you a better chance to correct a misstep. A line of boats waiting behind you might make you anxious, but take your time and get it right.
Don't oversteer. It's better to understeer and give yourself the opportunity to correct than oversteer. If you go too far, you may have to pull forward and start over.
Remember – the trailer turns in the opposite direction your vehicle turns. If you are turning your vehicle clockwise, your vehicle will go to the right – as expected. However, the back of your trailer will turn to the left. Knowing this will help you envision where your trailer and boat will end up. To put it simply:
Place the palm of your hand at the bottom of the steering wheel.
If you want the trailer to go to the left, move your hand to the left (clockwise).
If you want the trailer to go to the right, move your hand to the right (counterclockwise).
Have a friend help. Bring an experienced boater with you to help be your guide. An extra set of eyes never hurts, especially if you're new to navigating the ramps!
If you'd like to read more trailering tips, click here.
UNMATCHED MEMBER BENEFITS
Sea Tow has been the premier leader in on-water boating assistance since 1983. With Sea Tow, you pay one annual rate and receive the most comprehensive member benefits available. Membership includes a full suite of on-water assistance services as well as exclusive on-road assistance with Trailer Care. Learn more about our membership options today. To find the Sea Tow closest to you, use our service locator or call our Customer Care Center at 800-4-SEATOW.