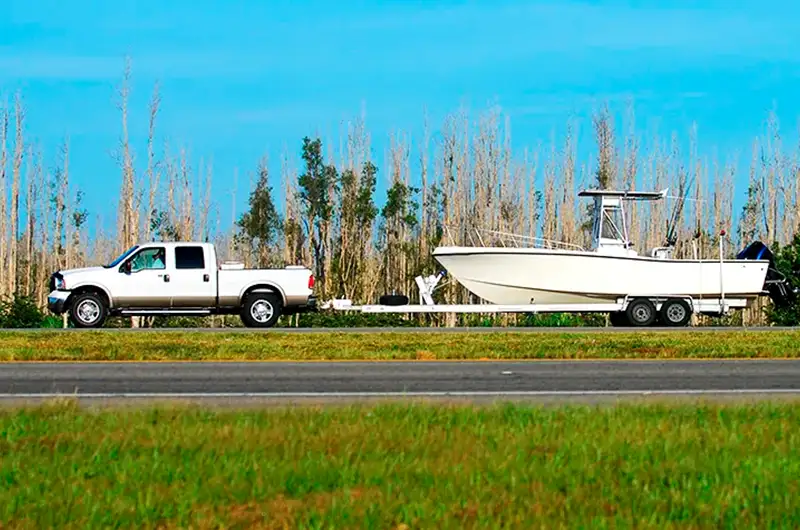 Trailering your boat is no easy task! It's incredible how many things can go wrong if you haven't given your full attention to the job at hand. Here are 6 tips for trailering your boat. 
Don't rush. Fully load your vessel hours before a trip to ease the pressure of getting an early start. Racing to catch a prime tide is a classic scenario that leads to problems down the road… literally.
Ease your trailer into motion. Whether pulling out of the driveway or accelerating when the light turns green, take your time to build momentum and accelerate slowly.
No Tailgating! Leave extra room between your vehicle and those ahead. When towing a heavy load, the braking distance may be significantly increased.
Trailers need extra cushion when turning so swing wide. Reduce speed and swing a little wider to avoid clipping the curb.
Change lanes slowly and deliberately while watching for impatient drivers that pull out from behind your boat and quickly accelerate into your blind spot.

If you sense the trailer swaying – even slightly – immediately pull over and redistribute weight. Tongue weight (load at the front of the trailer) should be 10 to 15 percent of the overall trailer load. If it's too heavy, you've found your culprit.
When you're ready to practice backing up your trailer, click here to read more.
UNMATCHED MEMBER BENEFITS
Sea Tow has been the premier leader in on-water boating assistance since 1983. With Sea Tow, you pay one annual rate and receive the most comprehensive member benefits available. Membership includes a full suite of on-water assistance services as well as exclusive on-road assistance with Trailer Care. Learn more about our membership options today. To find the Sea Tow closest to you, use our service locator or call our Customer Care Team at 800-4-SEATOW.