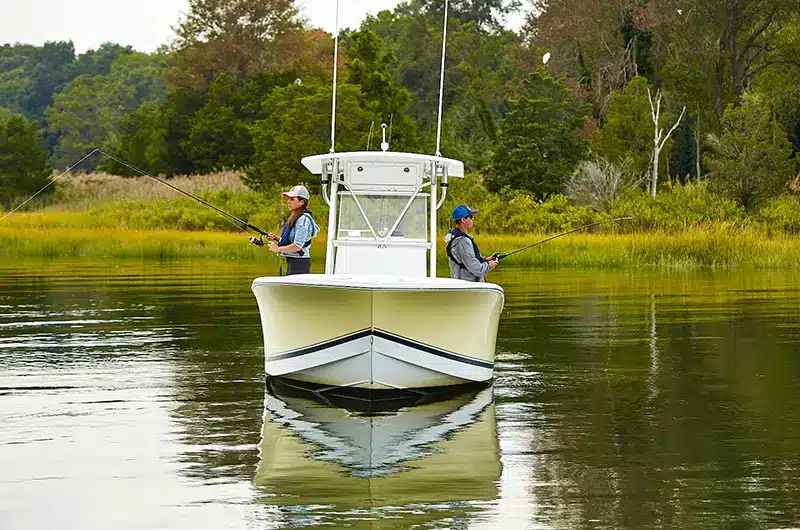 Lake fishing is a different beast. Any lake or river big enough for your boat has plenty of places where fish can hide so, where do you start prospecting? These four fish-holding features should point you in the right direction.
Points: Raised shore points that slide out into the water often extend far from shore. Work the slope to sample various water depths and bottom types without investing extra travel time. Points often produce mixed-bag catches including bass, walleye, trout and muskie.
Coves: Push to the back to discover quiet water dotted with docks, retaining walls, swim rafts, etc. Quietly pull within a short cast of any hard structure to tempt bass, pike and assorted panfish.
Weedy Flats: Novice anglers often pass up weedy stretches, but experts know big bass and pike lurk in the subaqueous tunnels beneath the canopy. Use a weedless worm, creature bait or punch jig here to tempt bass and pike – or break out a flyrod and panfish popper to tangle with slab bluegills and pumpkinseed sunfish in small breaks between the mats.
Eddies: Areas where the bottom drops off or the current is deflected, such as around bridge abutments, are havens for predatory species looking to ambush baitfish in the current. Work drop-off edges for bass, walleye and big trout. Fish stinky bait on the bottom for Mr. Whiskers (catfish).
Sea Tow membership goes beyond 24/7 on-water assistance and members receive the most comprehensive benefits available. Membership includes a full suite of services for every boat you own or rent. Learn more about our membership options today. To find the Sea Tow closest to you, use our service locator or call our Customer Care Team at 800-4-SEATOW.