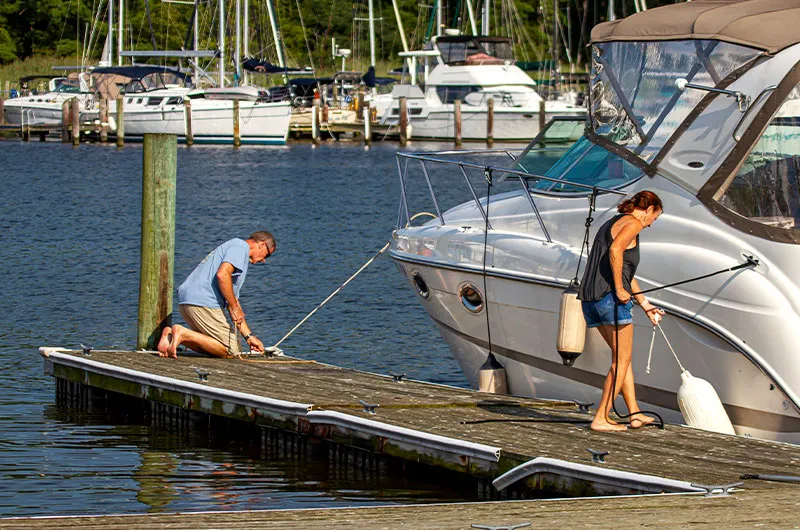 Ah! The joy of heading out on the water, the wind in your hair, and not a care in the world. Until you need to dock your boat! Docking can be challenging, so we've created a step-by-step guide to help you.
Easy Boat Docking Steps
1. Get Ready to Dock
Slow down and take your time. Save yourself from a 'crash landing' at the dock and make sure you have all your docking essentials at hand to avoid a scramble. Make sure your fenders are out, your lines ready, and that nothing is blocking your visibility. If you have a crew, discuss the docking plan and ensure each person helping knows their part in the docking process. Lastly, remember the golden rule, never approach anything faster than you want to hit it!  
2. Assess Your Surroundings
First, you must understand how your boat moves. Then, pay attention to these three factors: 
Space.

Know how much space you have to comfortably maneuver your vessel around the boat docking area. 

Traffic.

Watch out for boat traffic coming in or out and pay attention to how other vessels are docked. There's a big difference between an open pier and a busy marina.

Wind and tides. Stay privy to the tides and weather forecast,

especially if you're new to an area. Never try to fight mother nature, instead, use the current and wind to your advantage where possible.
3. Approach the Dock
Take it slow and steady, no one is rushing you. Once the dock is right ahead of you:
Approach the dock appropriately for your tie up location. You may need to come in parallel or at a more severe angle considering current and wind. You may be going head in, stern in, or a parallel side tie.

Instead of staying in gear until you want to stop or change direction, practice clicking in and out of gear and let the boat coast.

Watch your crew and guests and ensure no one tries to jump to the dock or attaches a line to the wrong spot before you are ready.
Now that you are in position, put the boat in neutral.  Most times you will look to get a midship line attached first to hold the boat against the dock or utilize it as a spring line. Depending on your overall situation you may then utilize that first line and your engine to keep you alongside the dock while you secure the rest of the lines.  Next, you will want to secure the stern and bow, in that order as quickly and safely as possible.
congratulations!
One of the hardest parts of docking the boat is over.  Take a breath, ensure the boat is in neutral and continue with your engine shutdown and other dockside tasks.
The Safest Way to Dock a Boat
The marine environment is dynamic and a lot can happen while navigating weather that can suddenly turns ugly, ensuring your passengers are safe and getting the boat to the dock without major incident. These boat docking tips will help you land safely:
Use the radio to communicate with the dockmaster before entering the port as appropriate.
Stop at a different location to unload passengers and gear before heading to your dock.
If you don't feel comfortable docking due to location or weather conditions, DON'T DO IT!  Back off, reassess, ask for help and even look for another location to dock until it is safe to go to your normal docking location. While it may be inconvenient, it is a better option than damaging your boat, other boats, marina facilities or injuring yourself or your passengers.
How Sea Tow Can Help
These tips are sure to help you achieve boat docking safely–but what happens if you run into engine trouble or out of fuel while out on the water? Sea Tow is standing by 24/7 to help get you back to boating or home safely.
As the premier leader in on-water boating assistance, members receive the most comprehensive benefits available. Membership includes a full suite of on-water assistance services for every boat you own, rent, bareboat charter, lease or borrow. Learn more about our membership options today. To find the Sea Tow closest to you, use our service locator or call our Customer Care Center at 800-4-SEATOW.