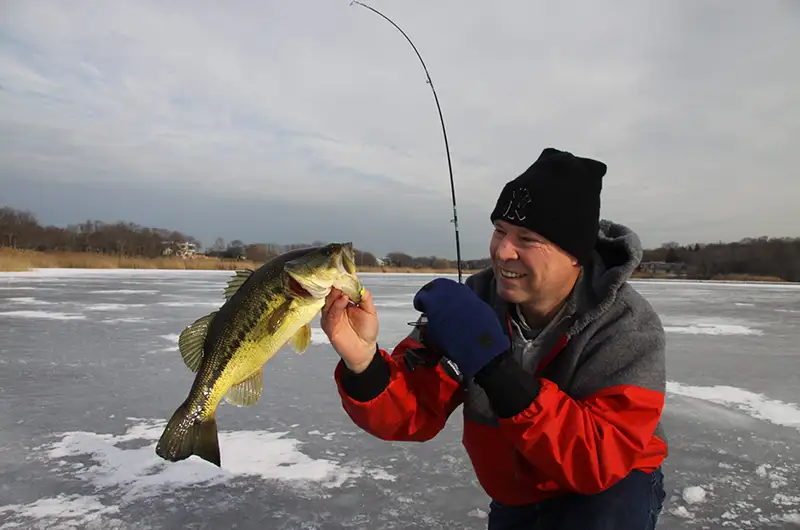 It's hard to believe a new year is upon us and, with it, the start of another hard water ice fishing season for those living in the Northeast.  If you are one of the crazies that insist on heading out on frozen lakes and ponds to test your skills during the dead of winter, here are a few thoughts to ponder.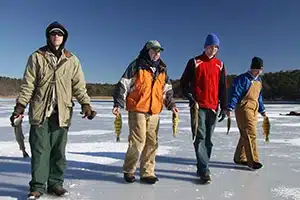 Don't Think Too Much
It amazes me how anglers new to ice fishing bee-line to the middle of a frozen lake expecting to find the fish gathered in a nice, tight school. As with any other time of the year, different kinds of fish seek out different kinds of structures. Bass will still be found around submerged logs and man-made structures. Pike will likely suspend along the edge of shoal waters. Yellow perch, walleye, and trout tend to cruise level stretches beside points. Bluegill, pumpkinseed, or crappies frequently gather a short swim from the mouth of a shallow cove or expansive flat.
The point being, don't discard everything you already know about a lake when it comes to ice fishing. Expect the fish to locate slightly deeper but still close to waters that delivered in the spring and fall.
A good rule of thumb on smaller waters, especially, is to drill where you would position your boat if you were casting toward the shore.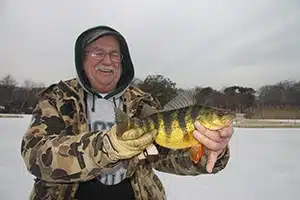 Quiet Can Be Key
Ice may seem like a terrific sound barrier but loud conversation and banging gear can shut down the bite in a hurry. If fishing close to home, try drilling a few ice fishing holes at lunchtime and returning to fish them an hour or two before dark. That way, you can quietly scoop each hole open and be ready to go by prime time.
No Shadows
As you figure out where to prospect, keep the moving shadows to a minimum. Position ice fishing holes in areas where the snow has built up enough to prevent your shadow from penetrating the frozen surface. If you play the sun right, you can drill a hole so that your shadow falls onto snow behind you while your lure is working clear ice ahead. Trout, yellow perch, walleye, and crappies seem especially fond of snowy shadow lines.
Load Up The Bait
The standard theory on ice fishing baits and lures is to go small. This is because fish are cold-blooded and their metabolism slows considerably in cold water.
With less need to feed, your wintertime quarry is likely to strike softly and favor tiny jigs or small shiners.
I've strayed from this conventional wisdom and begun baiting up a 1/16- or 1/32-ounce Northland Forage Minnow Spoon, KastMaster or tear drop jig with as many wax worms as I can fit on the hooks. This way of baiting up is called a "Medusa" presentation because of all those wiggling ends. The flash of the jig draws the biggest fish over for a look and when they see that knob of bait, the feeding instinct outweighs all caution.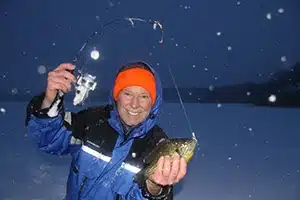 Keep It Safe
"Safety first" is the ice fishing mantra. Four inches of ice is the minimum on which to venture. Be aware that areas around inflows, outflows, and standing structures are easily compromised. Fishing with a buddy is a good idea, but be sure to spread apart to disperse your weight. Dress for the elements and wear a life jacket under your snowsuit. Pro tip – keep a screwdriver or ice pick in each pocket to help you crawl back onto solid ice if you fall through.
Cold as it may be, the ice fishing season runs short and sweet. It's only a matter of weeks before you'll contemplate unwrapping your boat and heading back out into open water.