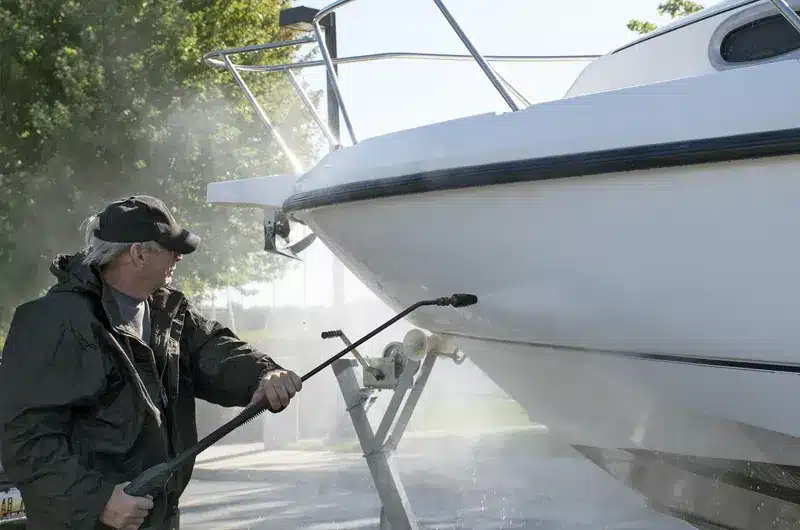 Spring has officially sprung! which means it's time for a solid Boat cleaning before the new season picks up.
If you live in a year-round boating climate, consider these tips for seasonal boat cleaning. If you live in the northern part of the country and went to town with a serious scrubbing before pulling your boat for the winter, the task ahead shouldn't be too involved. A round of deck soap with a healthy scrub and you'll be ready to drop into the nearest safe harbor. On the other hand, a boat that was stored over the winter months with little more than a hose-down before being covered is likely to require a thorough cleaning.
Generally speaking, it's easier to do a major clean-up on terra firma than on the water. Choose a place to work where wash water run-off can be effectively controlled. Even "soft" cleaners or those advertised as environmentally friendly can harm marine life. In terms of deck and hull cleaners, it's a good rule to think of less as being best.
From brand-name solutions to internet concoctions, there's no shortage of boat cleaning products available. Whether you go store-bought or homemade, keep in mind that more water, less detergent, and extra elbow grease is the safest route to take from an environmental perspective.  If need be, you can always mix up a small amount of extra strong cleaner to be used on a limited basis with stubborn stains, dried-on fish guts, and dirt or grease that just won't give.
A Boat cleaning session should start by clearing the deck.
These two steps are critical before you begin cleaning your boat:
Remove any items that can't be stowed away like gear totes and fishing tackle.
Sweep away leaves, dirt, and other debris, and then spray everything down with fresh water.
From there, you're ready to start on your boat. Pour on some cleaner and start scrubbing with a stiff boat brush. Start at the bow and work toward the transom so that all residue will gather at the stern scuppers. Revisit small areas with a hand-held scrub brush to work on stubborn dirt, grime, and stains. Be aware that some cleaners remove wax. Few have warnings that they will oxidize metals, so think before you slosh and scrub.
One area that is often a sticking point when cleaning is non-skid decking.
The key is to use a stiff-bristle brush or boat broom and scrub in the direction that channels in the non-skid pattern. You want to be scrubbing down the length of the grooves instead of across to ensure the brush bristles reach all the way down to the bottom. If your non-skid deck needs a really deep clean, use a boating cleaner designed specifically for the task.
As for cleaning the outer hull, brand name or homemade solutions all have their followers.
Interestingly, however, toilet cleaners are the latest trend and they have produced some terrific results. The key is leaving them for an appropriate amount of time so be sure to check the manufacturer's directions. Finally, take to a little polishing to make all the hardware shine.
No matter which products you decide to use, be sure to read and follow all warning labels. Always wear rubber gloves and boots to avoid skin irritation. Lastly, always rinse your craft with freshwater from one end to the other once the cleaning is complete. This avoids any remaining cleaners from stripping wax or damaging the gel coat finish.
Finally, now is the time to inventory everything you keep on board. Did you use it last year? If not, keep it in storage. Survey it all and take this as an opportunity to reduce weight and clutter before you load the boat again.
member benefits beyond 24/7 towing
As the premier leader in on-water boating assistance, Sea Tow members receive the most comprehensive benefits available. Membership includes a full suite of on-water assistance services for every boat you own, rent lease or bareboat charter. Learn more about our membership options today. To find the Sea Tow closest to you, use our service locator or call our Customer Care Team at 800-4-SEATOW.