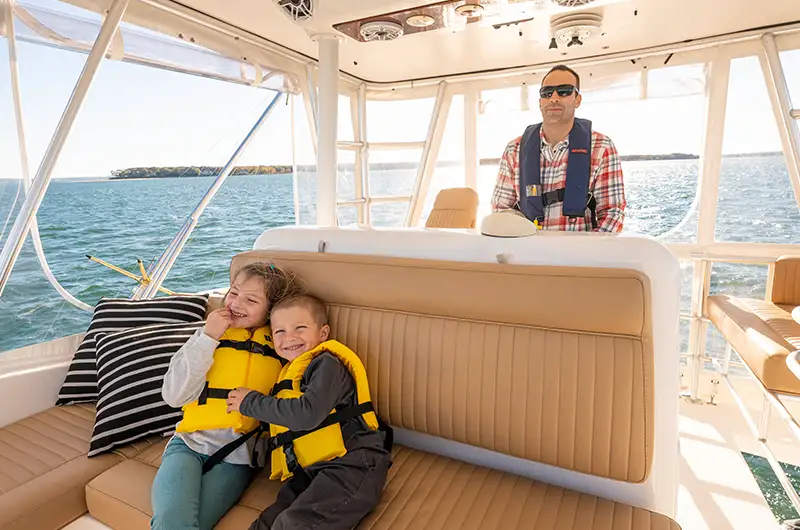 A state park or lakeside resort that features both an RV campground and a boat ramp among its amenities can make an affordable yet memorable destination for your family's summer vacation. If the park you choose is beyond your home waters, a little local knowledge can really come in handy. Be sure to call the local Sea Tow Captain for advice on navigation and where the fish are biting.
Here's a look at three great destinations on the East Coast for summer vacations with a boat and RV.
This oceanfront park and campground lets you experience the best of the Florida Keys without having to pay resort prices. Located on Bahia Honda Key at Mile Marker 36.8 on U.S. Highway 1, it's 12 miles south of Marathon. This park has it all: ocean beaches, hiking and biking ashore; world-class fishing and snorkeling offshore with access to the Atlantic Ocean and the Gulf of Mexico. Two boat ramps mean you never have to wait long to launch. Head to the Gulf side of the key each night for a glorious sunset.
Not familiar with the area? Give Captain Chris Ward, owner of Sea Tow Lower Keys, a call. He can help you navigate the Keys' shallow waters, tell you which species of fish are running, or direct you to a local dive shop.
With more than 500 miles of shoreline, Smith Mountain Lake is the largest reservoir in the Roanoke, Va., area. Located on the lake's north shore, Smith Mountain Lake State Park has RV camping sites as well as separate boat trailer parking. The on-site boat ramp is free to overnight guests. Once you are out on the water, you can fish for striped bass, largemouth and smallmouth bass, and catfish. If you prefer land, you can enjoy hiking along its hilly green shores.
Never been to this neck of the woods? Get in touch with Captains Nancy & Rick Ellett of Sea Tow Smith Mountain Lake. These community-oriented Captains are at the lake year-round and are extremely knowledgeable about the waters, fishing, and all the local happenings.
Located on the western end of Buzzard's Bay, this sandy state preserve embodies coastal New England at its finest. Horseneck Beach State Park encompasses nearly 600 miles of beaches, dunes, and salt marsh. It's a mecca for birders, sun-worshippers, and surfers alike. The on-site boat ramp gives you easy access to Buzzard's Bay, a craggy, 28-mile-long body of water that separates Massachusetts from southern Cape Cod. You can catch your dinner in the bay, then take it back to cook it at your campsite.
If you are visiting the Cape with your RV and boat, give Captain Ramsey Chason, owner of Sea Tow Cape and Islands, a call. He'll welcome you to the area, tell you the best place for local seafood, and even let you where the fish are biting.
Combining fun on the water with camping in a truly scenic setting, these coveted campgrounds are often booked up months ahead of time. So don't hesitate; the time to start planning your summer vacation with your RV and boat is now.
MEMBER BENEFITS BEYOND 24/7 TOWING
As the premier leader in on-water boating assistance, Sea Tow members receive the most comprehensive benefits available. Membership includes a full suite of on-water assistance services for every boat you own or rent. Learn more about our membership options today. To find the Sea Tow closest to you, use our service locator or call our Customer Care Team at 800-4-SEATOW.