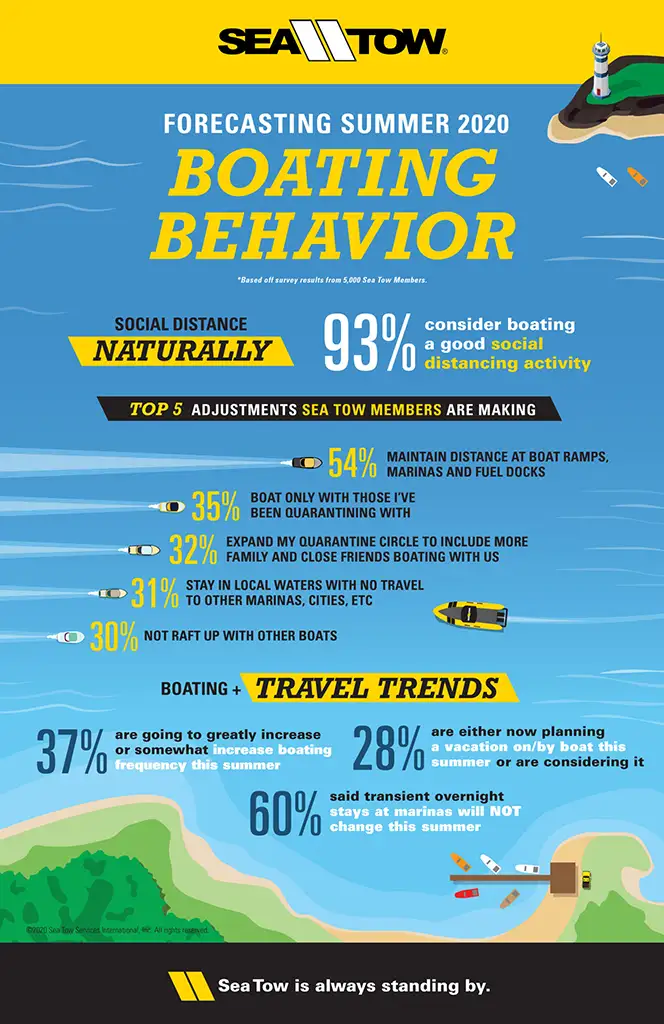 To better understand what the summer boating season will bring as we navigate the COVID-19 pandemic, we asked our members, what actions you'll be taking.
Our survey found that almost all boaters who participated (93%) consider boating a good social distancing activity.
Additionally, 37% replied that they are going to greatly increase or somewhat increase their boating frequency this summer with another 47% not changing their boating frequency at all.
The results also confirm that a significant portion of boaters plan on continuing to implement socially responsible actions and habits while boating this summer:
54% plan to maintain distance at boat ramps, marinas, and fuel docks
35% will boat only with those in their household or those they have been quarantining with
32% will "expand their quarantine circle" to include more family and close friends boating with them
31% will stay in local waters with no travel to other marinas, cities, etc.
30% will not raft up with other boats
Moreover, 59% of boaters who had non-boating-related vacation plans said they have canceled those plans, but only 24% of those with boating-based vacation plans canceled them. Additionally, 28% responded that they plan to, or are thinking about, adding vacations on/by boat this summer.
Transient overnight boat stays at marinas, for those where applicable, will largely remain the same:
60% said their quantity of transient overnight stays will "not" change at all
27% said they are decreasing transient overnight stays
13% said they will increase transient overnight stays
"Our survey results indicate that individuals and families are looking to social distance naturally, and what's better for that than boating!" Sea Tow President, Kristen Frohnhoefer said. "It's exciting to see that people still want to get out on the water and even plan to boat more often; all while taking action to stay safe this boating season. The boating community as a whole has an exciting summer of boating to look forward to."
UNMATCHED MEMBERSHIP BENEFITS
Sea Tow has been the premier leader in on-water boating assistance since 1983. With Sea Tow, you pay one annual rate and receive the most comprehensive member benefits available. Membership includes a full suite of on-water assistance services for every boat you own, rent, charter, lease or borrow. Learn more about our membership options today. To find the Sea Tow closest to you, use our service locator or call our Customer Care Center at 800-4-SEATOW.