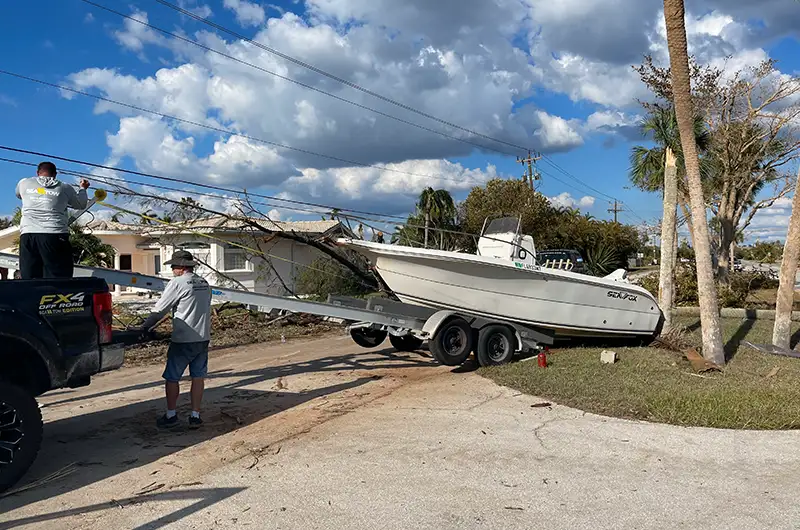 No matter how well you prepare in advance of a hurricane, your boat may still be affected. Only check on your boat after the storm has passed and local officials say it's OK to travel again but proceed with caution. A strong storm will leave a trail of destruction, so be mindful of downed wires, debris, and flooding on roadways.
When you check on your boat after a hurricane, be sure to bring:
Your phone to take photos and videos of any damage
Extra lines to replace any that may have been damaged or lost in the storm
Cleaning supplies to get that piece of the recovery project underway
Remove as much salt, mud, and moisture as you can. Check that there is no debris in the bilge and pumps. Check the water level in the bilge for potential damage, and look over the engine and fuel systems for damage. If you left any personal items and/or equipment aboard, take it home so it's not stolen.
If your boat has sunk or is displaced after a hurricane, it is critical to only work with local, licensed, and insured salvage and recovery teams. Sea Tow maintains specialized equipment to handle salvage and recovery work. Check with your provider to ensure salvage work is covered by your boat insurance policy.
Take the time to follow these tips to avoid any further post-storm difficulties.
How Sea Tow Can Help
Sea Tow has established relationships with most marine insurers and the experience to safely recover your property while preventing any further damage. If you have an insurance claim reported, we will do our best to work directly with your marine insurance provider. Our boats and equipment are top-of-the-line and built to respond. Learn more here or contact our 24/7 Customer Care Team for assistance.