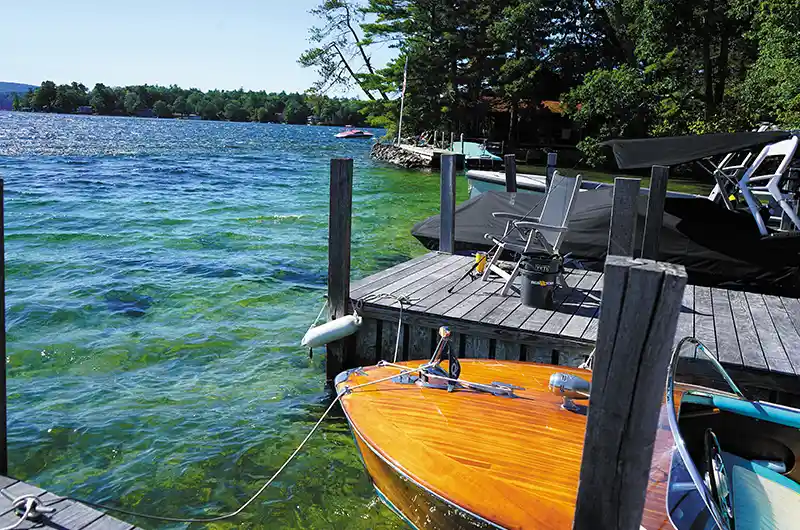 When buying a boat, you'll also need to decide where to keep your boat. Generally, it comes down to three choices: trailering, docking, or mooring. You'll need to consider your boating lifestyle before determining the best fit.
TRAILERING
Trailering is ideal for those who don't expect to be on the water every week during the boating season. It's also great for those who love to fish, explore new areas, or need to keep expenses in check. In a state like Florida, you can easily trailer from your home base to the Gulf Coast, East Coast, Intracoastal Waterway, or even the Keys. Long Island, NY, is similar in that you can cruise or fish the rocky waters of Long Island Sound, hit the south shore bays and beaches, or head out into the open Atlantic.
Another plus of trailering includes the ability to pull your vessel from the water at a moment's notice. Whether it's because of an approaching storm or for engine or hull repairs, trailering provides mobility. Hate bottom painting? Then trailering is definitely for you. Since the hull dries out while above the water, there's really no need for an undercoat as nothing will be growing on your vessel's hull.
There is a time investment to consider. Any time you exit a body of water, you'll need to scrub and wash down thoroughly. Removing any sign of foreign matter is important to aesthetics and performance. Overall, it doesn't take much extra effort to do a full cleaning after a day on the water.
Hooking up the trailer takes time and requires some strength in most instances. You may also have to pay launch fees at the ramp plus yearly insurance and registration fees. Trailer maintenance will cut into your wallet or pocketbook as well. Still, these factors shouldn't add up to the seasonal cost of mooring or docking, so if you are looking to save money trailering is definitely the route to go.
docking
Docking is more expensive than trailering, but it does offer a lot in terms of convenience for boaters of every type. The price per foot to dock for the season varies widely based on the number of local slips available, amenities at dockside, location, and more. In popular boating areas, it's not unheard of to see docking fees top $4,000 per year even for small craft. Some marinas also offer rack storage, which adds to the price but keeps your vessel high, dry, and available during open hours with a quick call ahead.
With docking, things really boil down to ease of access and basic amenities. If possible, you'll want to tie up in a secure location with as much protection from the elements as possible and access hours that match up to your boating routine. You'll find it comforting to know that other boaters or facility staff will be around to notice if a knot slips, a line comes loose, a door is left open or your bilge pump fails, and you'll likely have easy access to electricity, freshwater for washdowns, a dock box for storage, plus local restaurants, shopping, etc. For those who dock, ease of access for loading and unloading is another big plus – there's no dinghy rides back and forth. That's also a benefit when you want to get dressed up for a night on the town. Many boaters also enjoy simply hanging on their vessels while striking up conversations and friendships with nearby boaters. It's a nice gig if it's in your budget.
mooring
Think of mooring as "no frills" docking. Essentially, you tie up to a predetermined mooring ball that is generally a short dinghy ride from a dock. and once hooked-up, both you and your boat are on your own.
The big benefit to this approach is the cost savings. In some areas, mooring can cost as little as one-third the price of docking. Compared to trailering, it's nice to have a home base on the water and there are no launch ramp shenanigans with which to deal.
Many who appreciate mooring say they love the feeling of being at anchor. They can sense the gentle roll of small waves in a protected harbor, get a great view in all directions from their vessel, and find being away from the pilings creates a quieter atmosphere.
Getting back and forth from your vessel is the big drawback to this method. In many mooring situations, you can use a launch service to ferry back and forth, but few such services run 24/7. If no service is available, you'll be providing the power, either with oars or a small motor. The idea is to find a mooring spot that has access to a nearby courtesy dock. There, you can load and unload gear and passengers, use restroom facilities, and have access to pump-out facilities.
MEMBER BENEFITS BEYOND 24/7 TOWING
As the premier leader in on-water boating assistance, Sea Tow members receive the most comprehensive benefits available. Membership includes a full suite of on-water assistance services for every boat you own, rent lease or bareboat charter. Learn more about our membership options today. To find the Sea Tow closest to you, use our service locator or call our Customer Care Team at 800-4-SEATOW.