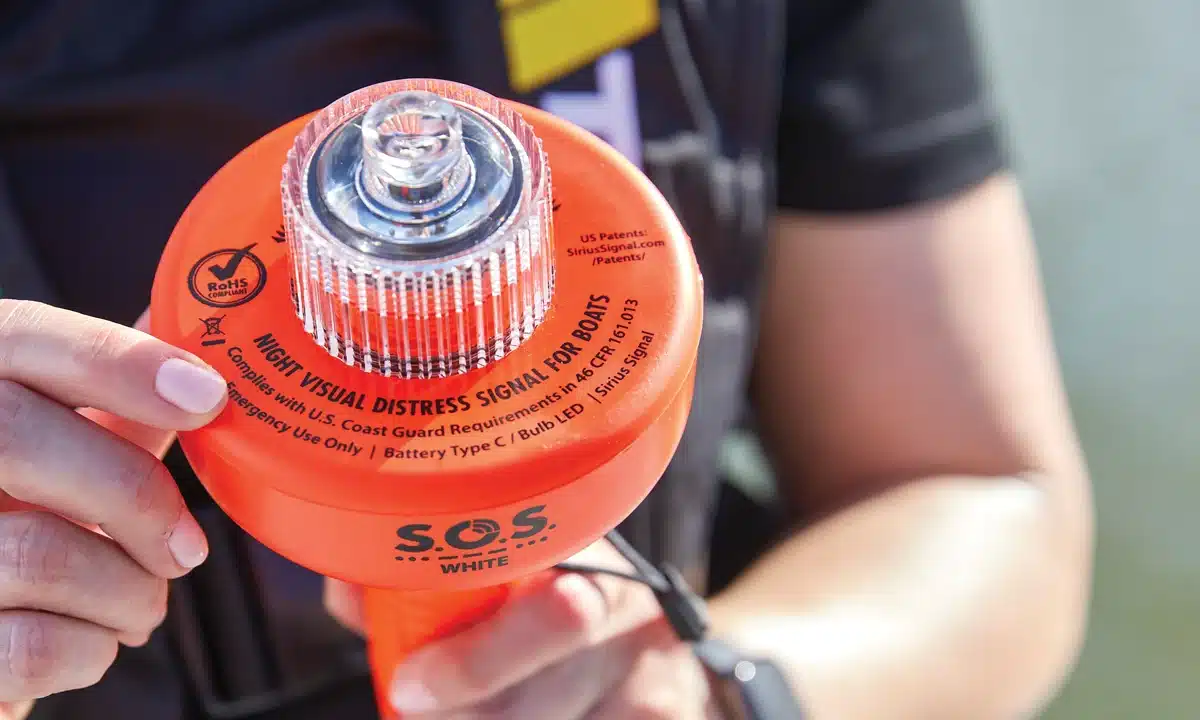 Every boater needs the proper emergency distress equipment on board their vessel. As a new Sea Tow Savings Club™ participant, Sirius Signal is offering Sea Tow Members 10% off two of their newest electronic flare SOS beacon to provide boaters new technology at a more affordable price.
The C-1002 and C-1003 utilize high-performance LED lights that flash an SOS distress signal that is visible for miles. The C-1002 has 13, two-color, LED lights that also utilize Bluetooth technology to connect to the Sirius mobile app features.
The U.S. Coast Guard requires all recreational boaters to have visual distress signals on board. A handheld flare is the most common tool that a boater will purchase but can be challenging to operate because of the strength and heat needed to do so, and are very short lived. However, Sirius Signal's electronic flare SOS beacon has been proven to last for hours on a single set of batteries. Almost anyone can operate the devices safely in part due to their ergonomic shape and ability to float in the water.
"Even as an experienced boater, if I am in trouble on the water, I want the world to know," said Steve Caldero, VP of Sales and Marketing at Sirius Signal. "These flare SOS beacons make your safety toolkit stronger and safer while out on the water. First and foremost, we want to keep boaters safe. Doing so in an environmentally friendly way is an additional accomplishment."
On average, flares expire after 42 months and must be replaced to meet the U.S. Coast Guard's standards. Throwing expired flares in the trash is an environmental hazard as they contain highly toxic chemicals. Sirius Signal's flare SOS beacons have eliminated this hazard with their electronic flares.
Sea Tow Members Save on Sirius Signal's Electronic Flare SOS Beacon Kits
Savings for Sea Tow Members apply to Sirius Signal's Electronic Flare SOS Beacon kits. The devices come with a nighttime visual distress light, a daytime distress light and a whistle for an audible sound making device, so you and your family are covered no matter what situation you might face. Sea Tow Members receive 10% off their entire order and receive free shipping.
Click here to visit the Sea Tow Savings Club™ to learn more about Sirius Signal's offer.