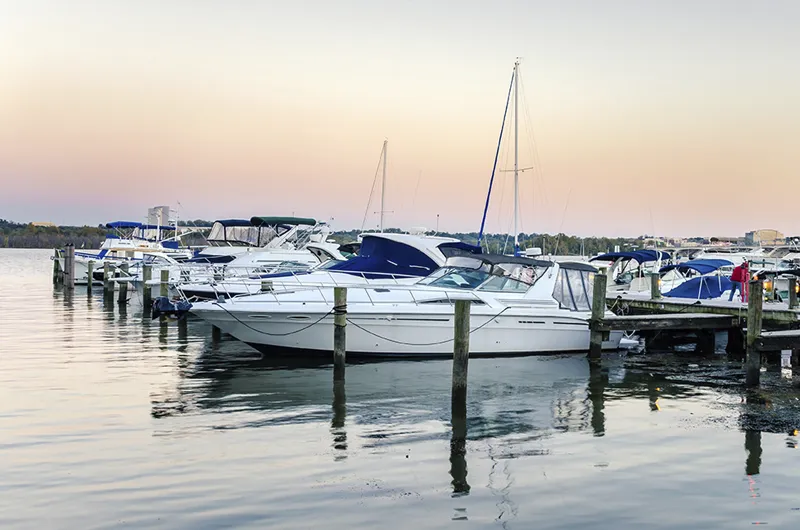 What Should I Know Before Buying a Boat
Owning a boat is rewarding and comes with much excitement for a first-time boat buyer. Here are some things to consider before buying a boat for the first time.
Type of Boat
You must determine what you want in owning a boat. Consider how and where you will use it because this will dictate your experience on the water.
Research and write down the key features that are important to you, where you plan to use it, and the distance you want to go before you start shopping. This will narrow down your search between the types of boats on the market.
How to Choose the Right Boat Type
Some factors to consider when choosing the right boat that meets your needs:
Size:

How many people can the boat accommodate at a given time? If you imagine cruising with a group, you'll have to consider a larger boat that's able to host all your guests. 

Use:

Boats have different uses and user experiences. Consider how you will use your boat and choose a boat that meets your needs or interests.

Trailering

: Will your boat need to be towed? Do you own a vehicle with

towing

capacity? Only go for a boat that you can handle.

Location

: Consider where you will use the boat. Deep seas mean a deep hull, unlike shallow waters that need smaller boats.

Storage:

Where will you store your boat? Your local marina comes with a cost and be sure to consider the space constraints if you have a personal dock.

Where is the Best Place to Buy New or Used Boats?
There are many places you can shop for new or used boats. From showrooms to private sellers, here are some options to consider.
Online Marketplaces:

Online marketplaces offer many possibilities with private sellers. 

Dealerships:

Just like cars, you can visit a dealership to purchase a boat. They're the professionals who typically hold inventory. 

Local Marina:

You can visit your local marina to look at the boats available for sale and contact the seller for more information.

Boat Shows:

Pay a visit to the local boat shows to learn more about the boating market, dealers, and brands.
When is the Best Time to Buy a Boat?
If you want the best deal, avoid buying during the height of the boating season (late spring into summer). Instead, consider buying a boat between November and February to get the best deal.

The Difference Between insurance and an annual Sea Tow Membership
One of the biggest misconceptions out there is that a Sea Tow membership can be included as towing coverage through an insurance policy. That is NOT the case. An annual Sea Tow membership is never included in any insurance policy. A Sea Tow membership is a standalone, more comprehensive option that boaters can purchase IN ADDITION to their insurance coverage. Annual membership offers members a full suite of on-water assistance options above and beyond just being towed. Priority service, towing to repair facilities when needed, towing to the port of your choice within your home area as opposed to just the nearest safe port, local navigational assistance, etc. Visit the FAQ section of our website to lean more about the common questions we hear regarding insurance.

member benefits beyond 24/7 towing
As the premier leader in on-water boating assistance, Sea Tow members receive the most comprehensive benefits available. Membership includes a full suite of on-water assistance services for every boat you own, rent lease or bareboat charter. Learn more about our membership options today. To find the Sea Tow closest to you, use our service locator or call our Customer Care Team at 800-4-SEATOW.