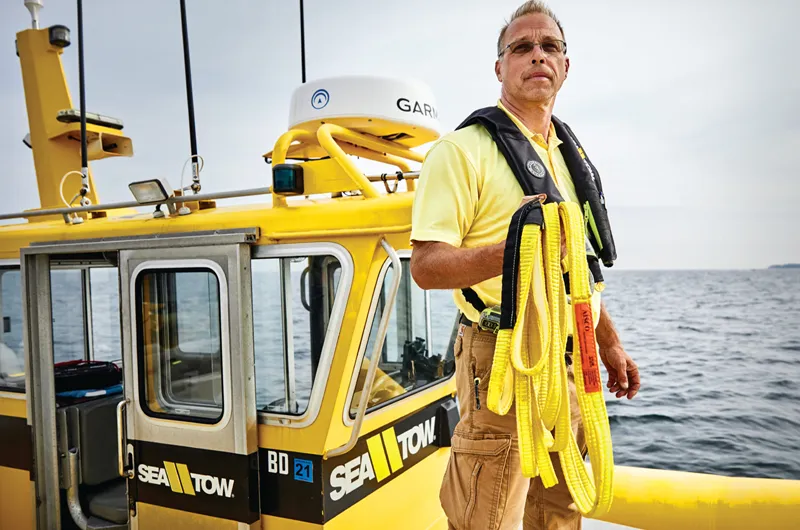 "Safety is paramount to everything we do."
When you're working on the water, it all comes down to doing your job safely. Which is why, above all, Sea Tow Captains are our biggest advocates of boating safety. Captain John Bilski, owner of Sea Tow Southern Connecticut and the 2021 winner of the Sea Tow Foundation Hero Award, took time away from on-water assistance to help us better understand how Sea Tow Captains like him support the mission of the Foundation.
What impact does this award have on you and your team?
It's an honor to be recognized by our peers for advocating boating safety.
How important is boating safety?
Safety is paramount to everything we do. It always comes first and especially is always at the forefront of our minds in every aspect of our job.
How do you support the Sea Tow Foundation as a Sea Tow owner and captain?
I believe that education, awareness, and availability are mission-critical. We have 11 Sea Tow Foundation Life Jacket Loaner Stations throughout our area that provide life jackets to anyone who needs them, no questions asked. Our team volunteers to speak at events about safe boating practices and are always a phone call away for boaters that need advice. We also are huge advocates for "if found please call stickers" on all SUPs, kayaks, and non-motorized boats. If they simply blow away and are found adrift in the water or on a beach, it could prevent a search and rescue operation.
Similarly, what is the best way to engage Sea Tow members + boaters in general on boating safety?
Through email, social media, and obviously just being on the water to remind them that Sea Tow is always available via telephone or a radio call away.
How can members benefit from Sea Tow Foundation's educational programs, tools, and resources?
Start by following the Foundation on social media. Awareness is the first step and making boating safety guidelines more accessible will help it become common knowledge to everyone on the water.
What advice would you share with your peers as future award recipients? What influence does this award have?
Firstly, make connections on the water. Educate members about the Sea Tow Foundation and that it's a boating safety resource. Sponsor a Life Jacket Loaner Station, use the Sober Skipper clean graffiti stencils, be a steward for safe boating. I've engrained safety as rule number 1 in every member of our team. We want everyone to come home safe and enjoy the water responsibly, just as the boating community should.
every dollar counts
The Sea Tow Foundation is a 501(c)3 non-profit organization that relies on people like you to help fund its programs that work with boating communities across the country to provide access to education, tools, and resources in order to eliminate preventable boating accidents and deaths. Donate today.