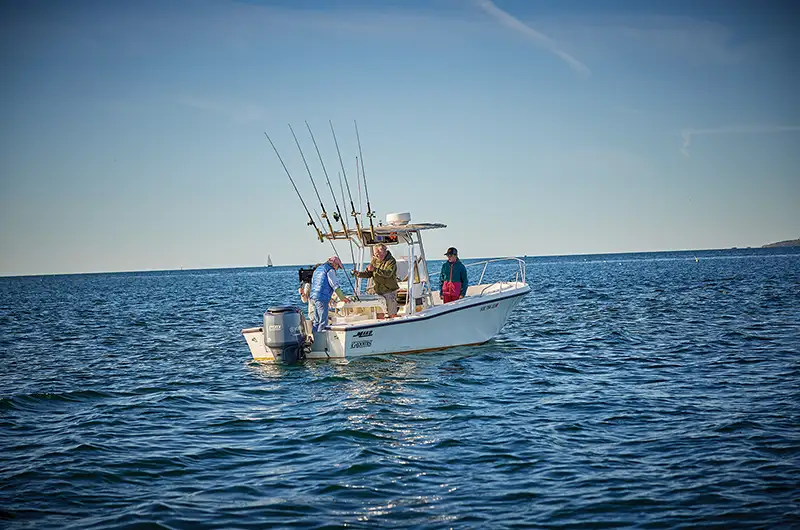 It's been another busy summer on the water. With an estimated 100 million Americans boating each year, advocating for boat safety is critical for the enjoyment and wellbeing for all who spend time on the water.
According to the US Coast Guard, in 2022 there were 636 boating fatalities nationwide – the rate of 5.4 deaths per 100,000 registered recreational vessels – resulting in $63 million worth of property damage. Nearly three fourths of these fatalities happened on a boat where the operator didn't have safety training. Alcohol was also the leading known contributing factor in fatal boating accidents, accounting for 88 deaths (16% of total fatalities).
While many safe boating tips may be second nature to seasoned boaters, there are additional tips that should also be kept in mind.
One hand for oneself and one for the ship.
When on a moving vessel, boaters should always use one hand to steady themselves, and one to work with. Wax and water make fiberglass a very slippery surface, so always have one hand free and one hand holding onto something when moving about the boat. This is especially true when the waves are making the boat rock back and forth.
Take a boating safety class.
Knowing how to boat properly and safely is essential for a fun time on the water. Many insurance companies even offer discounts for boaters who take an accredited boating safety education course.
Don't overload the boat – with people or gear – and consider weight distribution.
Check the owner's manual for the boat's capacity and make sure to distribute weight evenly without blocking the captain's visibility. Overloading a boat can cause hazards such as capsizing and difficulty navigating.
Interior lights impair outward vision.
Just like a car, boaters should shut off the boat's interior lights and dim the GPS at night, so they don't impair the captain's sight.
Have life jackets on board.
When it comes to life jackets, everyone should be wearing them while making way, not just children. For those over 16 years of age choose an inflatable suspender style life jacket. Now available for $100 or less, they are super comfortable and allow boaters to stay cool in the sun.
Never bow ride.
Just like an amusement park ride – keep hands, feet, legs, arms, etc. inside the boat and never sit on the gunwale of the bow. Only sit in seats that are designed for bowrider boats. Just because a boat may have bow deck cushions, doesn't mean anyone should be sitting there while under way.
Always make sure the engine is off and the key is out when people are in the water.
No one should jump in the water before the captain says it's safe to do so and the captain should never start the engine without checking to ensure there is no one swimming nearby. Taking the key out makes it harder to restart the boat and prompts the driver to double check for swimmers before starting the engine. This is done to avoid someone getting caught in the prop and getting severely injured or killed.
Invest in new technology and designs for comfort and safety at the same time.
Federal law now requires the use of engine cut offs in boats 26' and less. Instead of having to wear the engine cut off kill switch coiled lanyard, invest in a wireless version. This allows captains to wear a fob around their neck or wrist which gives them the ability to move around the boat more freely. All passengers can also wear fobs so if someone falls overboard the engine is killed immediately.
Appoint a look-out to assist the driver.
Having someone else to keep an eye out for debris in the water, fishing pots or crab/lobster pot markers, kayakers and paddleboarders, approaching boats and other watercrafts, helps avoid damage to the boat, prop entanglements and accidents. Always have an additional lookout person to assist the captain while partaking in water sports such as wake boarding and tubing to keep an eye on those in the water and their location.
Avoid running down battery while at anchor.
Be careful how much the boat's battery is used when the engine is not on. For example, if the radio is on all day, the boat's battery may run down, and the boat may not be able to start at the end of the day.
"At Sea Tow, we are always prepared for the unexpected, as many mishaps can occur even under the best conditions. Our network of captains serve as a resource for boaters, both on and off the water," said Sea Tow President, Kristen Frohnhoefer. "We want to empower boaters to become educated and anticipate potential issues before they arise, and that starts with a foundation of knowledge and good safety practices."
Interested in learning more?
The Sea Tow Foundation provides a variety of resources for boaters about all things boating safety, including a special guide on how to fit a life jacket to a child. Visit their website today.
Sea Tow has been the premier leader in on-water boating assistance since 1983. With Sea Tow, you pay one annual rate and receive the most comprehensive member benefits available. Membership includes a full suite of on-water assistance services for every boat you own or rent. Learn more about our membership options today. To find the Sea Tow closest to you, use our service locator or call our Customer Care Team at 800-4-SEATOW.