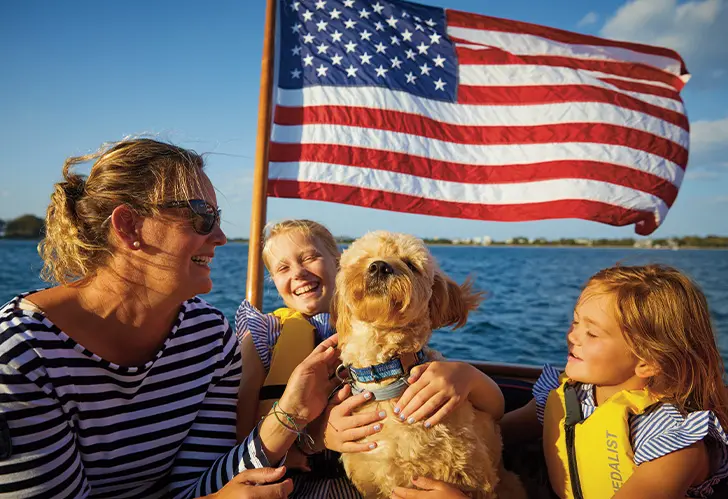 There's nothing better than capping off your summer with a good old-fashioned boating weekend like Labor Day. Before you head out on the water, there are a few things to keep in mind. It's one of the busiest boating weekends of the year so be sure to follow these tips in order to keep things safe and fun.
Navigating Busy Waterways
Because many waterways will be more crowded, it's important to consider the time of day to launch and cruise.
"Be alert and make sure you're using your best boating techniques," said Captain Ramsey Chason of Sea Tow Cape and Islands. "Be sure to watch your wake and leave plenty of room for other boats. More space means more time to react." In addition, Capt. Ramsey added that it's important to adjust your boating for changing conditions. "If the water is rough or visibility is poor, slow down. If you plan on being out at night, make sure you have working navigation lights before you head out for the day."
Dropping Anchor in Crowded Areas
Watching fireworks from your boat is the best! Be aware though that extra traffic and inexperienced boaters will also be out for the summer show. It's important to know the right way to anchor up to ensure your boat and crew enjoy the show safely. "Coves and other locations fill up quickly on busy boating days, so utilizing the correct anchoring technique can be crucial," said Captain Jared Stubbs of Sea Tow San Diego. "Leave enough space so that your boat has some room to move around and make sure you let out enough line for the anchor to hold securely. Remember that an anchor line in a prop can lead to a locked-up motor and an inoperable boat. Be aware of your surroundings at all times."
Rafting Up with Friends and Family
Rafting up with other boats is fun!  You can relax with friends and family, all tied up in a floating neighborhood.
It may seem like something as simple as tying a few boats together, but rafting up is easier said than done, Sea Tow Fort Lauderdale GM, Michele Kerrigan.
"It's important to have a plan BEFORE you start tying boats together," she said. "The largest and heaviest boat should drop anchor first. From there, other boats should approach slowly and use plenty of fenders so that other boats aren't damaged. If you're having trouble, approach at a 45-degree angle, toss out your bowline, and allow your boat to settle in beside the host boat."
Bottom line – keep an eye on your surroundings and keep having summer fun.
MEMBER BENEFITS BEYOND 24/7 TOWING
As the premier leader in on-water boating assistance, Sea Tow members receive the most comprehensive benefits available. Membership includes a full suite of on-water assistance services for every boat you own or rent. Learn more about our membership options today. To find the Sea Tow closest to you, use our service locator or call our Customer Care Team at 800-4-SEATOW.