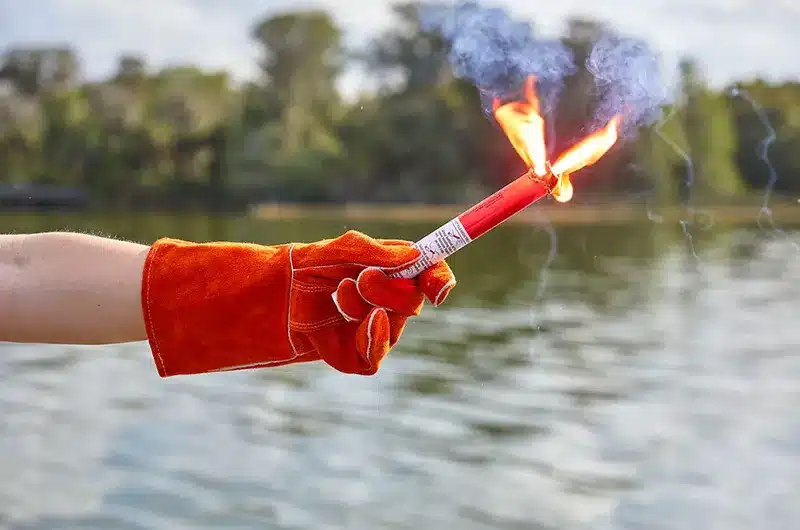 WHAT ARE VISUAL DISTRESS SIGNALS?
There are many kinds of VDS meeting nighttime and/or daytime requirements. Traditional
pyrotechnic devices include Hand-Held Flares, Flare Gun and Floating Smoke Flare. Electronic
E-Flares run off batteries and include a Distress Flag that meets daytime requirements.
WHO NEEDS TO CARRY FLARES?
Boaters are required to carry Visual Distress Signals (VDS) if they are or will be operating on U.S. coastal
waters, the Great Lakes, territorial seas, as well as those waters that directly connect, up to a point
where the waterway is less than 2 miles wide.
WHEN SHOULD I USE A FLARE TO SIGNAL FOR HELP?
Signal for help in an emergency. What constitutes an emergency is when there is threat to life,
threat to property, or a combination of threats that may lead you to jump overboard.
WHY SHOULD I USE AN E-FLARE?
E-Flares are easy to operate and do not expire. They only require that you check the batteries on
a regular basis. There is no risk of being burned by an E-Flare. The light from the E-Flare will
flash the S-O-S signal for at least 2 hours, much longer than a traditional flare.
WHERE DO I DISPOSE OF EXPIRED FLARES?
If your state does not have a flare disposal facility, next steps are to contact a local household
hazardous waste facility, local fire department or local boating enforcement agency for
recommendations.
HOW DO FLARE GUNS WORK?
A flare gun is made out of plastic and is used to discharge aerial flare cartridges. It can be used as
both day and night visual distress signals. Once launched, the light from the flare is only visible for
5 seconds.
Interested in learning more?
The Sea Tow Foundation provides a variety of resources for boaters about all things boating safety, including information boaters need to safely and properly use traditional flares as well as electronic flares. Visit their website today.