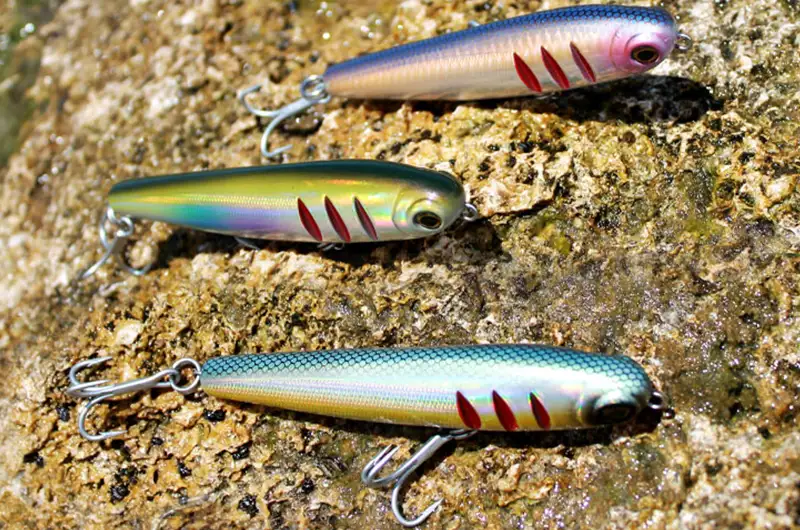 Does your favorite angler have a birthday coming up? Maybe you're looking for a "just because" gift? What better choice than a new lure, right?
Well, that's partially true. The problem is that a lot of lures are area and/or species-specific. The best choices of these for your angling crew are discovered with a trip to a local tackle shop. Simply ask the salesman to guide you to a choice or two that match up well with local species and conditions. Many anglers have a favorite tackle shop or marina where they check in regularly. Chances are good that someone on staff will even know your angler's preference. Problem solved.
How do you know which lures – and which colors – to pick out then?
Fortunately, there are some lure types that have a nearly universal appeal. The simple bucktail, for example, is a hook embedded in a lead head jig and finished with either a deer hair or synthetic hair imitation tail. Because of their size, shape, and weight range, bucktails can be worked at any depth for virtually any kind of predatory fish. Think summer flounder on the bottom to pelagic surface feeders like mahi mahi. A ¾ or 1-oz., white or chartreuse Spro Bucktail jig is a gift just about any angler can use. The jigs are tied cleanly, cast well, and catch well. Tipped with a red or white Fat Cow 3-1/2-inch Eel Tail Jig Strip for extra action, they will catch nearly any predatory fish that swims.
A solid set of soft-plastic swimbaits is another can't miss fishing gift. Panther Martin makes a weedless, slim-bodied lure called the Big Fin 3-in-1 Paddletail Weedless Swimbait. Buy the 1-ounce size for anglers whofavor shallow, inshore waters and the 2-ounce size for those who go deeper. White and chartreuse patterns will work well, as will all black – an absolutely evil pattern for night fishing around bridges and other snook structure. Storm WildEye Swim Shads are also easy to use and bring consistent results. As with the Big Fins, simply cast them out and retrieve at slow, medium or fast speeds until you find a winner. The four-inch size is a perennial winner.
Some anglers really like a challenge and for them, topwater fishing often produces the biggest thrill.
To tackle this gift, consider the Tactical Anglers Crossover Stalker. It will bring just about any aggressive saltwater feeder right to the surface in response to a simple side-to-side (walk-the-dog) retrieve across the surface. Big stripers, redfish, and snook seem especially drawn to this lure.
There's no better way to load up with lures that will work in hometown waters than by taking a trip to the nearest tackle shop. If you prefer to shop online, however, any of the above options are sure to bring both smiles and tight lines.