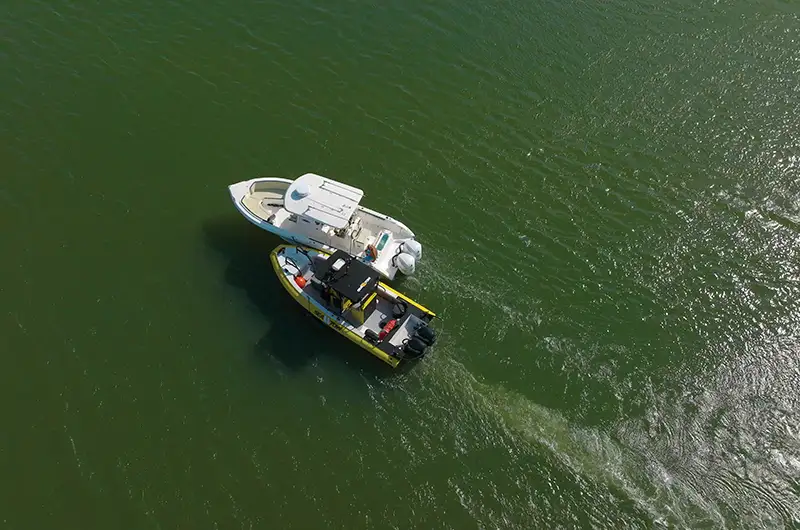 It was a hot Saturday in August when 20-year-old Susan and her friend Brad headed out in the Palm Beach area to spend the day on the water at local sandbar hangouts with friends. That afternoon, as they were headed back home, something went wrong. The boat hit a wake from a passing boat and began skidding across the water. Susan and Brad were flung overboard while their boat kept going.
Fortunately, a large adventure catamaran was passing nearby. Crew members from the catamaran pulled the two from the water while their boat circled furiously with no one at the helm.
An unmanned vessel is extremely dangerous to swimmers, other boaters, marine animals, and property. Unsure of what to do, the catamaran crew members contacted Sea Tow Palm Beach and asked for their assistance. Will Beck, owner and captain of Sea Tow Palm Beach, answered the call, notified authorities and proceeded to the site with Capt. Chris Allen to assist.
Gaining control of the vessel was no easy task. The captains first attempted to get alongside the boat and match speed with it. But, with the boat at full throttle making tight turns, it became nearly impossible. Both captains were determined and moved to plan B. Capt. Beck threw ropes into the oncoming path of the boat to catch the propeller, ultimately jamming the engine. The rope slowed the boat down enough so that Capt. Beck was able to hop on board and stop it.
Moral of the story? ALWAYS connect your boat's engine cut-off switch while your boat is underway. It could save your life or the lives of others.