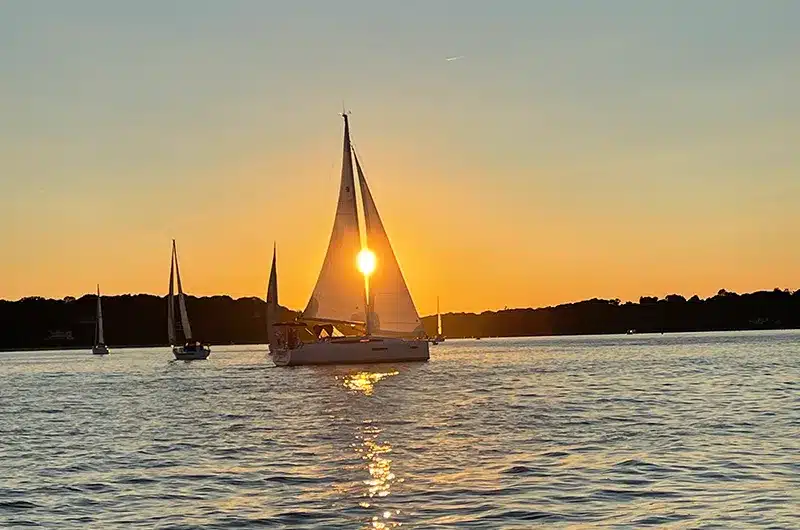 Looking for a some of the best boating in the northeast? Nestled along the picturesque North Shore of Long Island, New York's Huntington Harbor beckons boaters with a captivating blend of natural beauty, rich history and a vibrant waterfront culture. With its cliff-lined rocky shores, the coastline here has a decidedly New England flavor while its history draws crews ashore for closer inspection and a more cosmopolitan experience.
Tucked behind both Northport and Huntington bays, you'll pass the hillsides of Lloyds Point and Eaton's Neck on approach to this destination. It's along this stretch of Long Island Sound coastline and further to the west that the rich and famous built their mansions in the late 1890's through the years of opulence immediately preceding the Great Depression. Indeed, the western stretch of Long Island Sound real estate from Great Neck east to Huntington, known as "The Gold Coast," inspired the 1925 novel, "The Great Gatsby." The Huntington area in particular was also home to the poet, Walt Whitman.
The rich and famous still live and play on the waterfront slopes here, of course, but dig a little deeper on your visit and you'll find the moored fleets of sailboats, berthed yachts, runabouts and fishing vessels.
Still, it's the variety of opportunities that seals the deal for most visiting boaters here, whether cruising, on the hook or checking out the dining, shopping and entertainment in Huntington Village.
"Huntington Harbor has a lot to offer any boater,"
says Captain Gaige Simon of Sea Tow, Huntington, which runs three boats in the area. "In addition to the great scenery, dining, shopping and fishing action, you've got yacht clubs and restaurants, marinas with gas docks, pump-out boats and mooring access. Transient dockage can be tight at peak season, so it's a smart idea to call ahead and reserve a slip in advance."
Simon suggests poking around both inside and outside Huntington Harbor proper. "If you head outside the harbor just past Huntington Harbor Lighthouse, you can point your bow west and cruise up into nearby Lloyd Harbor where you'll find protected water and designated areas for wake boarding, tubing, etc. Head northeast, and you'll come to Sand City tucked behind Eatons Neck. Here you can drop the hook, tie to a mooring or even beach your bow. Sand City is perfect for rafting-up or spending time along the beach with family as long as the wind isn't blowing stiffly from the east. To catch a great sunset, push right out into Huntington Bay or Long Island Sound and anchor a little to east or west. The sun will be setting straight across on the Connecticut side."
As for local fishing opportunities
Huntington is a perennial hot spot, reveals Simon. "You'll find big stripers here from late April though early June. Porgies, fluke, sea bass and blues highlight the summer action, and the stripers, along with monster blues, put on a fall spectacular from September through October. In both the spring and fall, stripers bass in the 30-pound-plus class are not uncommon.
Those looking to dock and dine will find plenty of choices both near the harbor and in Huntington Village.
Perhaps the most popular stop for a waterfront lunch or dinner is Prime, known for its great steaks, seafood, bar choices and waterfront location. You'll need a reservation here and, if coming by boat, you must pay to tie up at the restaurant dock. For a great sandwich try Gold Coast Surfside Deli, right next to the Mill Dam launch ramp. If pizza is your deal, DiRaimo Pizzeria is a five-minute cab ride from local marinas and can't be beat. As you head up into Huntington Village, the choices for dining and shopping are many and varied. Both the Huntington Chamber of Commerce  and the Huntington Historical Society can turn you on to current events which seemingly run nonstop through boating season.
In terms of navigation, the same basic rules apply to Huntington Harbor as anywhere else that bustles during the summer.
Check your charts before heading out, watch your wake in the busy zones, and stay in the channels as much as possible. Note, however, that you'll need to use a little extra caution in the harbor proper because of all the sailboat moorings. Be aware, too, that there are rocks immediately to the west of the Huntington Harbor Lighthouse, so stay to the east of that structure at all times. This lighthouse, by the way, is the oldest reinforced concreate lighthouse on the East Coast. Established in 1857, the current tower was lit in 1912. The light was automated in 1949 and is still operational.
"Of course, if you need some help on the water, you can always give Sea Tow a shout," says Gaige. "If possible, note your latitude and longitude when you contact us (you can get this from your Sea Tow App). Drop anchor, too, if possible, so you'll be easy for us to find. We monitor channel 16, which is the best channel here to communicate with other boaters in the area. In general, primary boating channels are well marked here so stay between the greens and the reds and you should have no problems."
UNMATCHED MEMBER BENEFITS
Sea Tow has been the premier leader in on-water boating assistance since 1983. With Sea Tow, you pay one annual rate and receive the most comprehensive member benefits available. Membership includes a full suite of on-water assistance services for every boat you own or rent. Learn more about our membership options today. To find the Sea Tow closest to you, use our service locator or call our Customer Care Team at 800-4-SEATOW.