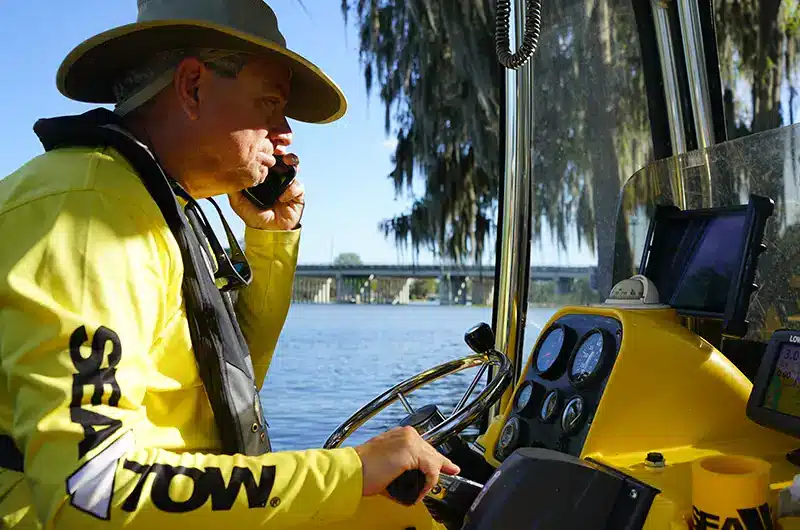 If you need on-water assistance, the best thing to do is call Sea Tow by cell phone first. It provides immediate two-way communication and allows us to gather all of the details needed to service you as quickly as possible.
Sea Tow's Customer Care Team \ 800-473-2869
When calling for on-water assistance, have the following information ready to expedite your call and dispatch:
 Your location (GPS preferred)
Your boat details: make, length, color, name if applicable and anything that would distinguish you from other boats in the area
 Nature of distress/description of the problem you are having
 Where you left from and where you're heading to
 Number of people on board
 Whether or not you are anchored
No cell service? Hail Sea Tow on VHF channel 16. Offshore with no service or you've hailed Sea Tow on channel 16 with no response? Hail the Coast Guard and ask them to relay to Sea Tow.
IMPORTANT! IN AN EMERGENCY, LIFE-THREATENING SITUATION, ALWAYS HAIL THE COAST GUARD FIRST ON VHF CHANNEL 16.
Before heading out on the water, download the Sea Tow app to reach us directly with one touch.
UNMATCHED MEMBER BENEFITS
Sea Tow has been the premier leader in on-water boating assistance since 1983. With Sea Tow, you pay one annual rate and receive the most comprehensive member benefits available. Membership includes a full suite of on-water assistance services for every boat you own or rent. Learn more about our membership options today. To find the Sea Tow closest to you, use our service locator or call our Customer Care Center at 800-4-SEATOW.