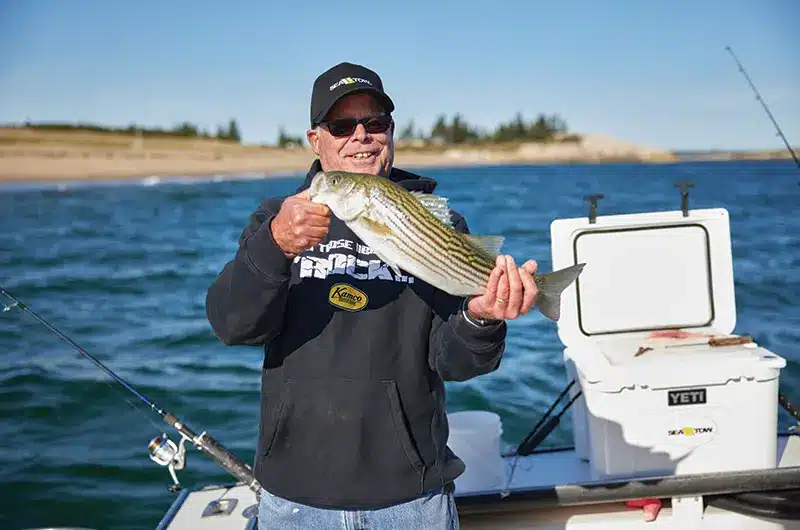 Inshore saltwater winter fishing possibilities might not compare to the abundant options of late spring, summer and fall, but that doesn't mean you need to rack your rods and reels until the clocks spring forward in March. Depending on the region where you live and the fish you target, fishing in cold weather can produce some solid action and surprisingly good catches. That is, if you are willing to substitute some specialized winter fishing tactics for your normal fishing routine.
Undoubtedly, you'll find more opportunity as you head further south during the colder months. What fish bite best in the winter, however, really does depend on geography.
In the Northeast, there is little inshore action to speak of from late December through early spring. Anglers will need to entertain themselves with offshore trips for bottom feeders like ling, scup, black sea bass and tile fish. These fish are often caught aboard charter or open boats that can reach favored deep-water wrecks that may be 30 to 50 miles offshore. Southeast Coast anglers, enjoy easy access to inshore species like redfish, southern flounder, sea trout and sheepshead. In Florida, the Keys and around to the Gulf Coast, piscators can score well right through the dead of winter. With a host of species including snook, redfish, sea trout, snapper, grouper and sheepshead on inshore flats, around mangroves, marshes, and rock walls.
No matter what you consider to be the best fish to catch in January, February and March, the main keys to muscling in on the action are likely to be similar. You'll want to concentrate efforts in the warmest water you can find for the areas you intend to fish. Slow down your presentation, and scale down the size of lures and baits.
The most important thing to keep in mind for consistent winter-time inshore action is to be aware of temperature trends.
Fish are cold-blooded and their metabolism slows as water temperature drops. This causes them to feed lethargically and simply seem disinterested in doing battle if the temperature drop is sharp or prolonged. It's amazing the positive influence even a degree or two of can have on the propensity of fish to feed. Get two or three consecutive days of warming weather and the upswing in action can really be significant. It makes sense then to concentrate efforts as much as possible during warming trends since they heat up the water.
Conversely, a sharp cold snap often has the opposite effect, shutting down the bite. Even during dropping temperatures, though, there are still options on the inshore scene. Areas protected from wind tend to stay a little warmer than those that are fully exposed. Places with moderate current may run a degree or two warmer than nearby waters that are pushing harder. Mud bottoms, being dark in color, heat up more quickly than surrounding waters. Deep holes or channels adjacent to flats allow fish to easily slide into deeper water to escape a fresh chill. The fish will return to the shallows as they once again begin to warm.
Note, too, that because their metabolisms have slowed, most fish species tend to prefer smaller baits and lures during the winter months.
They are also less willing to expend effort chasing down fast-moving lures. For these reasons, live shrimp often catch better than fast-moving lures with a lot of wiggle action during the winter months. If you would rather still throw lures, however, scale down the size and slow your retrieve. On the coldest days, you might even want to simply drag a small hair jig, grub or swimbait slowly across the bottom to trigger more strikes.
Of course, you'll need to pick your days carefully if you fish in an area where winter weather is significantly cold. You might also consider having a de-icer for your boat in such situations. Keep the possibility of rapidly changing weather in mind and file a float plan with someone you trust.
Sun-screen, polarized sunglasses and UV protective clothing are all just as necessary on winter-time fishing adventures as they are in the summer to avoid sun damage to your body. Even though the temperature may be cold, those bright, sunny winter days can be harsh on your skin. Don't forget to dress for warmth and comfort throughout the trip since it's hard to detect the often-subtle feel of winter bites if your fingers are frozen. With more layers, be sure to wear a properly fitted life jacket and know what to expect if you do fall in the water, and how to react if it happens. The Sea Tow Foundation has more cold water tips to help you plan accordingly for a successful day on the water.
Sea Tow membership goes beyond 24/7 on-water assistance and members receive the most comprehensive benefits available. Membership includes a full suite of services for every boat you own or rent. Learn more about our membership options today. To find the Sea Tow closest to you, use our service locator or call our Customer Care Team at 800-4-SEATOW.